Pursuing any artistic passion can be expensive. If you're serious about your efforts, financial sacrifices can be incurred. 
The craft of being a DJ is often misunderstood. There is a real technique that many of these professionals develop over the years. It takes time to hone their abilities. That said, it can take even longer to build a solid following that would be willing to travel and buy tickets for a performance, too. 
Though you may be thrilled at the prospect of becoming a DJ, you must sensibly approach things if you're serious about nurturing a long-term career in the profession. You may even need to make considerations outside of the profession itself. All of this should be done to control costs, thus making your dreams achievable. 
How can you control costs when becoming a DJ? We've provided some suggestions for you below. 
DJ From Home
DJs can rent out studio spaces or buy their way into performing at popular venues if they don't have a profile or following. These strategies are no longer strictly necessary.
Of course, if radio presenters can cobble together a show from home, then there's no reason that you can't DJ to a similar effect. You can create a great studio space in a bedroom these days. Additionally, you can opt to live stream your sets if you feel an urge to perform to an audience. It may even be a preferable option due to the possibility of surpassing venue capacities with your viewing figures. 
Every beginner artist needs to overcome limitations and financial limitations. It's highly unlikely you'll earn lots of money during the early days of your career. As a beginner DJ, you should walk before running and fine-tune your craft over time. DJing from home can give you a private space to experiment and fail within. You won't have to hire studio spaces for little financial return. 
Secure Quality Equipment
DJing at home may not seem doable at first. However, once you've seen the range of high-quality beginner equipment available online, this effort will seem more realistic. 
Try to invest in the correct DJ equipment for beginners looking to perform from home. From mixers to vinyl turntables, you can find a breakdown of everything you need here. Software, headphones, and other useful accessories are also detailed. Of course, there are many different DJ setups that fluctuate on usage and price, so it's worth exploring all your options. 
There are many nuances to securing DJ equipment. It's something you should do only once you're suitably informed. Not all of the tools you need will be ludicrously cheap, but by arranging a studio space at home, you'll be controlling costs around your DJing long-term. Think of it all as a positive investment.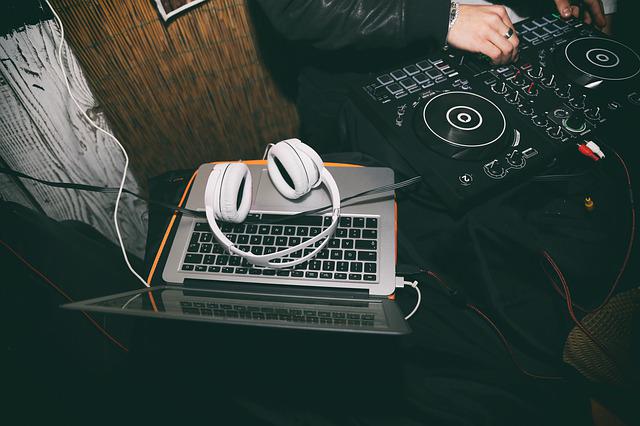 Hone Your Mindset
Controlling costs can make artists feel restricted in their pursuits. Instead of feeling like you're being held back, try to view any financial limitations as a chance to be even more creative. After all, some of the best art can be produced during the most challenging period in one's life. 
There are many ways to pursue DJs at little cost to yourself. If your loved one has a birthday party coming up, see if you can secure a spot to perform. Enter local competitions to showcase your talents for people to see or perform as an opener for another act. Those instances aren't always glamorous, but they will help you hone your craft without breaking the bank.  
Your DJing should come from the soul and be free of financial incentives. Once you're fuelled by nothing but passion and creativity, a solid foundation for your career can be built. There may be some struggle with scheduling if you're working your 'fallback' job alongside your DJing, but it will all help you pursue your dreams in a more fiscally sustainable fashion.
Build a Network
It's not a good idea to fly solo as an artist. DJs are no exception to that rule. Contacts can provide useful guidance than can help you save money long-term. 
For example, your network may be able to suggest free outlets from which you can source your tunes. The interface may not be as good as a library that charges subscription fees, and the sound quality may be a touch inferior, but you'll be able to make do until you have more money to spend on your DJing. You'll also dodge illegal sites claiming to offer free downloads and any fees you might be charged for dealing with them. 
Local and online competitions may get you seen by the right people. Contacts may be willing to shout you out on social media. They could know other DJs who'd be willing to mentor you if they don't have the time to do so themselves. Contacts may also be on good terms with proprietors of useful venues and book you a slot if they believe in your talent. Ultimately, DJing is a crowded industry, so you'll need other people to amplify your voice within it.