The poker game is always exciting. When there is money on the table, and you are playing, it is an adrenaline-raising moment. Thrill of bluffing, poker strategies to force your opponents into folding, and hoping for that lucky card that can win you the hand, everything is exciting about this game. However, if someone else is playing beside you or even your favourite actor is risking some big amount on the big screen, it will be a nail-biting situation for viewers as well.
Many prominent movie actors and directors have tried to portray poker game and the casino's environment through the cinematic scope. It might be challenging to show the real aura of this card in movies as the nervousness, competitiveness, tension, excitement, and adrenaline rush are a bit hard to represent in a film scene. Nevertheless, several filmmakers have been successful in describing the real essence of poker. Here, we have mentioned a list of movies poker scenes.
Casino Royale
This movie needs no introduction as the James Bond series and casino has some close relationship. As it befits a Bond adventure, there is no shortage of exciting scenes. As the name of the movie suggests, it is all about gambling and casinos. One of the film's major highlights is the scene in which Daniel Craig has to play in a poker tournament.
The opponent player (le Chiffre) is under a lot of pressure because he is trying everything to win. If he does not win, he will not be able to carry out his terrorist activities, and these all can be a threat to himself. On the other hand, James Bond must win against him in order to stop him. His tactic is to put maximum pressure on the opponent. The whole movie is amazing, and even if you watch for multiple times, in particular this scene, you will never get bored.
Casino
Directed by Legendary Martin Scorsese, this film has shown gambling and mafia beautifully. This 1995 classic film tells a story about a guy named Sam "Ace" Rothstein, played by Robert De Niro, who has to see all operations of a casino owned by a mafia boss. His life takes a turn when one of his friends and his wife have some other plans.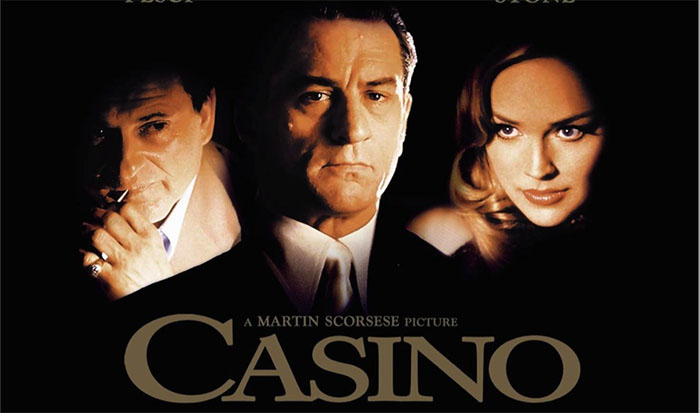 This film has many gambling games scenes, but one of the most popular is an open card game being played. Sam's best friend Nicky Santoro is seen playing a poker game here. The role of Nicky is played by Joe Pesci.
Ocean's Eleven
One of the most stylish heist films in Hollywood history. Studded with some of the best and handsome actors in the industry, Ocean's Eleven is not about exact the concept of gambling, but it is mainly about casinos. A group tries to carry a heist in some of the biggest casinos in Las Vegas that are owned by Ocean's (George Clooney) ex-wife's boyfriend.
An interesting poker scene is where Rusty Ryan, played by Brad Pitt, teaches poker lesions and important rules to his crew that will rob casinos. Later, Ocean joins them in a game and wins effortlessly. This scene still has our heart as it shows some of the best actors in the industry playing against each other.
Rounders
This 1998 film revolves around a poker player named Mike McDermott, played by Matt Damon. He is now a law student who has lost all of his fortunes to a Russian player. After this incident, he has quit poker. He again puts his feet in casinos to play poker when his old friend Worm returns from jail.
There are multiple scenes in the movie where poker is portrayed. But one of the best scenes is in the climax where he plays against the same to whom he had lost all his fortune. He plays a no-limit Texas Hold 'em, and the excitement is how Mike tries to turn the game in his favour. This is one of the most impactful poker scenes in movie history.
The Cincinnati Kid
This classic film from 1965 is a real treat for fans of Steve McQueen. The film tells the story of Erin Stoner, played by McQueen, who is a stud poker player. He is known as The Kid, and once he challenges one of the best poker players in the region to play a high stale Five Card Stud game. The film is set in the time of the Great Depression, and it is one of the best poker films of all time.
One of the best scenes in the movie comes at the climax when there is a twist. This twist shows that anything can happen in poker and other gambling games. If you are a poker player or even a movie fan, you should not miss this poker movie.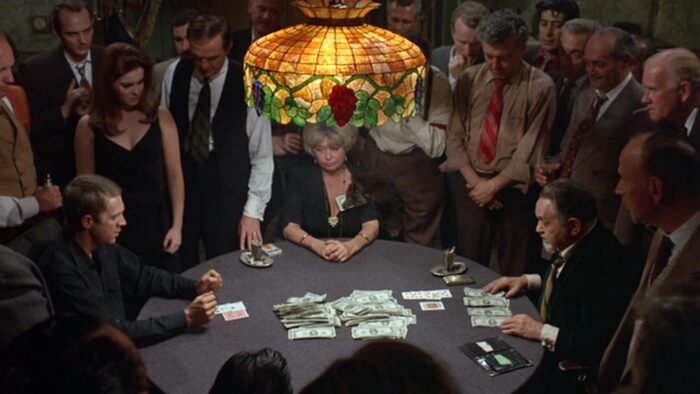 Lock, Stock, and Two Smoking Barrels
A Guy Richie must have style, action, comedy, mafia, and full-on entertainment. This film tells the story of four friends who have lost a chunk of money in a game, and they have to pay their debts to settle everything. The film's main core is comedy and action, but it apparently shows how gambling can be risky as well. There are a few poker scenes in the movies that are fun and show the dark sides of careless gambling.