Over the last decade or so, music festivals around the world have had to adapt and innovate the festival experience for their new millennial customer. With everything from carnival rides to paint parties, organizers have pulled out all the stops to give festival goers more bang for their buck. 
One surprising crossover that is seeing increased popularity amongst festival goers is the inclusion of live sports at music festivals. Outdoor venues from all around the world have hopped onto the trend which is changing the festival experience for millions of people. There are plenty of reasons why the trend has picked up so much buzz in recent years. As ticket prices have risen, customers have been more frugal with their money. This means that a lot of the time, the acts that are booked are not quite enough to convince them to part with hundreds so they will look for a festival that can provide new, immersive experiences along with the great live music. Second to this are some of the incredible outdoor venues in which they are held with many located at popular surf spots.
Boardmasters is an excellent example of a festival that has provided both of these hot commodities. The annual event takes place over five days in Cornwall, England and was originally founded back in 1981 as a surfing competition, hence its name Boardmasters. Held near the famous Fistral Beach, the stage for one of the World pro surfing events, it was expanded to include live music acts in 2005. Revellers can split their time between the music, massages, yoga and of course the awe-inspiring surf action to create an experience they will never forget. They could even use a betting site to back their favourite surfer to win the Men's Pro 5 Star WQS surf competition.
However, Boardmasters isn't the only festival where you could ride the waves. Just a little further up the coast is Devon's GoldCoast Oceanfest. After being forced to postpone due to COVID, it is scheduled to take place in June 2022. Located at one of the best surfing spots in the UK on the sandy coastline of Croyde Bay you can grab your board and head out into the ocean or take part in their beach soccer and volleyball competitions.
Or if you are looking to venture into mainland Europe, you could check out NOS Alive in Lisbon, Portugal. The festival boasts a long list of superstars in their alumni, with acts such as The Weeknd, Arctic Monkeys, Radiohead and The 1975 all taking to their main stage over the last eight years. The beauty of this festival is that it is situated within touching distance of numerous surf spots. You can head down to Carcavelos beach and take a surf school class if you are a rookie. If you're more of an intermediate and want to challenge yourself, you can take a short car journey to Ericeira and take on slightly heavier waves at incredible spots like Cave and Coxos. With the music at this festival not kicking off until the late evening, you can spend your day surfing before you sing until you lose your voice.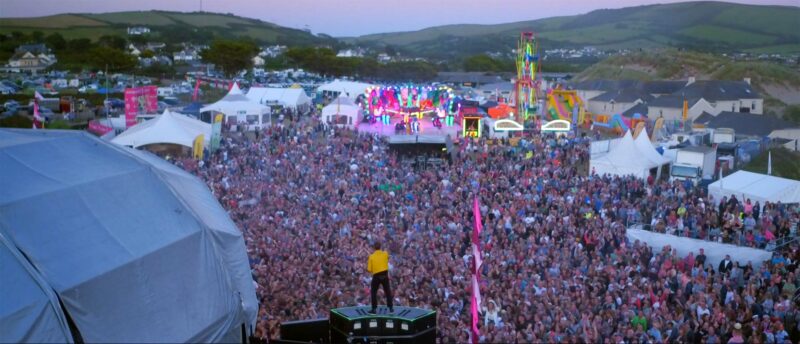 Whilst festivals have become synonymous with the Summer months, thousands are swapping the sun for snow and heading off piste. There is no reason that Winter sports fanatics have to miss out on the experience as they have the opportunity to merge it with their love for music in some breath-taking locations. Huge events like the Tomorrowland festival have even began hosting a Winter counterpart to their usual Summer event.
Snowbombing is one of the biggest ski resort festivals in the world and is one of the originators of the concept, first being held in 2005. Held annually in the spring at the Austrian ski resort of Mayrhofen, the festivities last for an entire week. Although mainly welcoming Electronic Dance Music acts they have also crossed over with rock and roll star Liam Gallagher, Ska legends Madness and indie-rock mainstays The Vaccines. The resort boasts over 320 miles of piste where skiers and snowboarders can take to the slopes and also hosts air and bordercross competitions. You can also take in the stunning snowy mountain views on a cable car, relax in their spa or explore their igloo village.
You cannot talk about skiing and snowboarding without mentioning the Alps. Stretching over 750 miles across eight Alpine countries, it is a location that features on the top of any winter sports enthusiasts bucket list. Adrenaline junkies everywhere travel in droves to take to its jagged peaks for some of the most exhilarating off-piste skiing in the world. This is why the Chamonix Unlimited festival ranks among the most popular. Located in Chamonix, France, its legendary surroundings attract thousands of thrill seekers who are mesmerised by the towering presence of Mont Blanc. Taking place over six days in the Spring, it is a must see for the views alone and the open-air stages that are so near the summit of Mont Blanc make for a truly unforgettable experience.
The Snowboxx festival is non-stop action both on and off the slopes. The weeklong snowfest is held in Avoriaz, France in the Alps. Welcoming huge dance music acts such as Andy C and Chase and Status, this high-altitude event doesn't just deliver on stage. Hosting igloo parties, extreme snowball fights and human bowling, Snowboxx finds a way to keep you entertained throughout the entire day. Talented skiers can access 11 snowparks and over 350 miles of pistes. Not so confident on the slopes? Snowboxx have you covered. You can take a beginner ski or snowboard lesson and then chill with a beer when you need a rest.
Sports festivals are changing the way festival goers spend their time and money and giving them more then they have ever had before. Whether it's the jagged peaks of the French Alps or the tubular waves of the Devon Coast, you can now combine your love of music and sport into one incredible experience.