If you could pick one pop star to host your Christmas Party it would have to be Robbie Williams. While the rest of the pop scene is happy churning out bland, faceless reality stars, there is something about Robbie that would guarantee your Christmas Party would be one to remember. Sadly, as they say on all those award shows, Robbie can't be with us this Christmas so here's the next best thing, a Robbie Williams Christmas album. Well, two albums actually, as Robbie, along with some of his best mates, runs through some of the finest traditional anthems (and, bizarrely, It Takes Two) on this two disc set aptly named "The Christmas Present".
Now, Christmas albums, and songs if we're being honest, fall into two categories. Firstly, there is the appalling songs that bands release, never to be spoken to of again, (anybody still wheel out Jon Bon Jovi's Please Come Home For Christmas?) or those that are a bit of fun and, thankfully, for the most part, The Christmas Present falls into the latter category. Split into two discs, festively named 'Christmas Past' and 'Christmas Future', this two disc set is definitely for Robbie/Take That devotee and Christmas album fans given that the content is split between original Robbie material and covers of some of your favourite festive singalongs.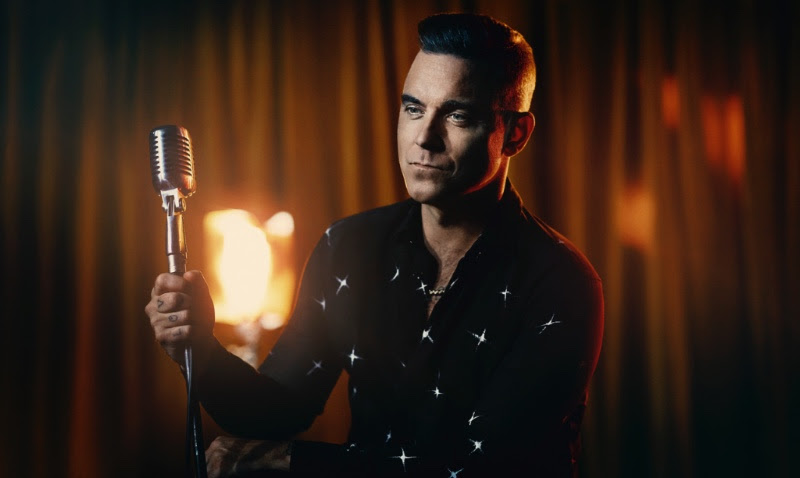 Of the covers Disc One sees Williams team up with Jamie Callum for recent hit single 'Merry Xmas Everybody' while the festive fun kicks off with 'Winter Wonderland' where the tone is set for pretty much the rest of disc one. Elsewhere Williams croons his way through 'Let It Snow! Let It Snow! Let It Snow!' and two new songs in the form of 'Rudolph' and 'Let's Not Go Shopping'. Okay, so they'll never make it into a Robbie Williams set list but alongside cover of old Christmas favourites like 'Santa Baby', you can tell that the pop superstar has gone in with the intention of having some fun with his first ever Christmas album. In fact, by the time you've had a few glasses of mulled wine and Williams has crooned his way through 'Best Christmas Ever', 'One Last Christmas' and 'Coco's Christmas Lullaby Reprise', you'll have your festive jumper on and you'll be singing along with Britain's cheekiest pop star.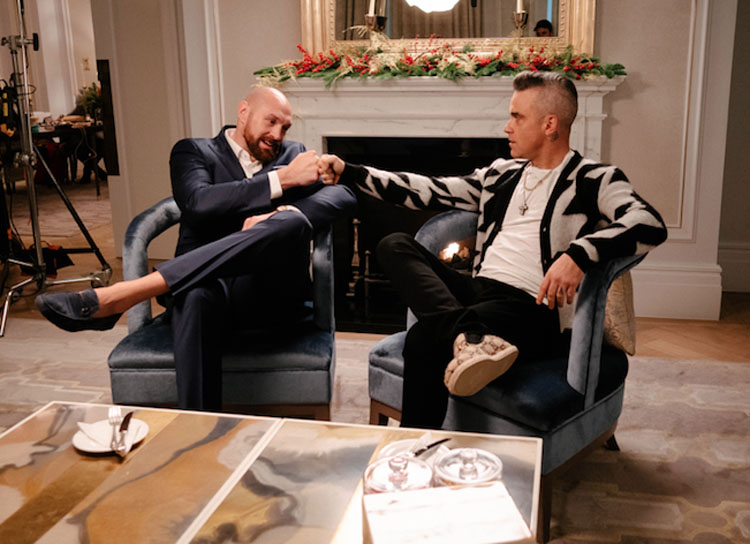 Disc Two or 'Christmas Future' features eleven more tracks along with four bonus tracks, if you've not had enough of Robbie by the end of 'Soul Transmission'. Continuing off where Disc One ended, 'Christmas Future' is more of the same with a mix of covers and originals and, it has to be said, a few unusual choices this time but, hey, it wouldn't be Christmas if there weren't a few surprises hidden under the tree would it? This time round, Robbie ropes in a few big hitters to join him round an open fire. Scottish rock superstar Rod Stewart weighs in with two tracks, 'Fairytales', and the rather unusual choice of 'It Takes Two' which finishes off the album. Also, joining Robbie is Canadian pop-rock heavyweight Bryan Adams who Robbie pairs up with for 'Christmas (Baby Please Come Home)'. Now, while these are undeniably interesting collaborations, the one everyone is looking forward to hearing surely must be his collaboration with boxing heavyweight Tyson Fury on 'Bad Sharon'. On paper what looks like the most bizarre musical collaboration ever turns out to be the highlight of not only the disc but the entire album. Elsewhere there is plenty more Christmas based fun from Robbie in the form of 'Happy Birthday Jesus Christ', 'Merry Kissmas' and 'I Believe In Father Christmas'.
At twenty-eight tracks long, Robbie's first Christmas album is a weighty affair meaning that, if you're a fan of Robbie and a fan of Christmas there probably isn't a better combination to provide the musical soundtrack to the next couple of weeks of festive fun.
9/10