First up we have the delightful and lovable raconteur Stephen K Amos has hit the road again. This time, the show's name is  EVERYMAN, and it rolls into  Leeds City Varieties on  Sunday, 26th January.
In these divided times, it's easy to feel angry when mad talking heads and evil officials are looking for any slight difference of opinion to plough open and exploit. We need an 'everyman' to bring people together, using the most powerful tool we have: comedy. In short, we need Stephen K Amos!
He's on a mission to bring about world peace. Or to at least bring about an evening of peace, one venue at a time. In an age when arguments are started over everything from politics to bendy straws, Stephen is rising above the anger to remind us of what we have in common. Bringing achingly funny anecdotes, hilarious takes on the everyday and his infectious charm, Stephen K Amos will warm your cold, stiffened hearts. Join together with your fellow man and experience the universal language of laughter!
You can see him here;
January 2020
Bristol (Redgrave Theatre): 11 January 2020
Salford (The Lowry): 15 January
Gloucester (Guildhall): 16 January
Farnham (Maltings): 17 January
Maidstone (Hazlitt Theatre): 18 January
Epsom (Epsom Playhouse): 22 January
Folkestone (Quarterhouse): 23 January
Cambridge (Junction): 24 January
High Wycombe (Old Town Hall): 25 January
Leeds (City Varieties): 26 January
Radlett (Theatre): 29 January
Wellingborough (Castle Theatre): 30 January
Lincoln (Performing Arts Centre): 31 January
February
Hertford (Theatre): 1 February
Didcot (Cornerstone Arts Centre): 5 February
Didcot (Cornerstone Arts Centre): 6 February
London (Leicester Square): 7 February
London (Leicester Square): 8 February
Camberley (Theatre): 9 February
Norwich (Playhouse): 13 February
London (Leicester Square): 14 February
London (Leicester Square): 15 February
Next we have funnyman Romesh Ranganathan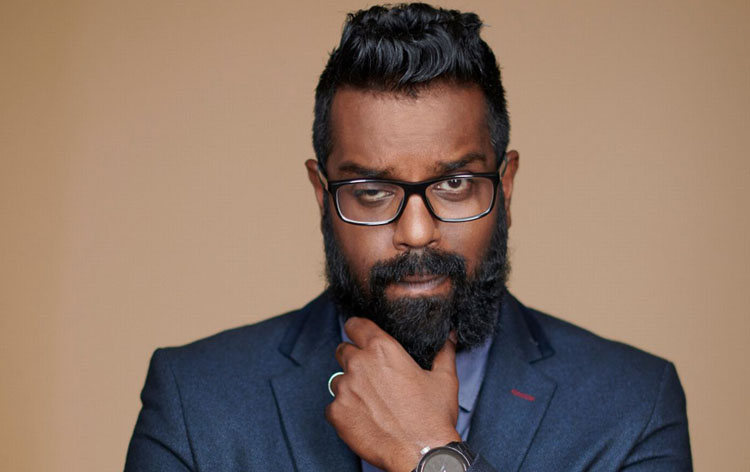 Fresh from  The Reluctant Landlord,  The Misadventures of Romesh Ranganathan, A League Of Their Own and  Judge Romesh, he's putting showbiz aside to deliver a carefully-curated selection of all the things he has found unacceptable since his last tour, including why trying to save the environment is a scam, why none of us are truly free, and his suspicion that his wife is using gluten intolerance to avoid sleeping with him.
The Cynic's Mixtape stops off at the  Victoria Hall, Halifax on  Wednesday, 1st April. This is no April fool.
Romesh's cynicism has become his trademark, but since being nominated for Best Newcomer at the 2013 Edinburgh Comedy Awards this deadpan humour has made him one of Britain's most respected and popular comics. Now, though, the Asian Provocateur has returned to his stand-up roots for a while – there's things he needs to point out, discuss and have a good moan about. Care to join him?
We can definitely recommend this show as one not to miss. You can see our review here.
For a full list of dates and tickets, you can find them here