1. So who is Ryan Swain? Tell us a brief life story in three sentences? 
A TV, Radio and live events presenter, comedian and all round entertainer and DJ from Malton in North Yorkshire. A family man, father to identical twin daughters Ivy-Kay and Isla-Yasmin Swain. A charity fundraiser and social influencer online.
2. You turn your hand to a lot of different things – what is the one thing you enjoy the most?
Presenting a live concert, event or program is my niche and warming up big audiences for other artists and bands. There is no greater feeling than walking on stage to thousands of people, it's electrifying. I also write and ghost write comedy and sketches for other acts and social media stars too which I have received a lot of adulation for over the years. I have several viral sensations myself with my own sketches online including "What A Parent Of Twins Finds Themselves Saying To Everybody!" which was featured in the Huffpost US and UK and "Funny Things About Having ADHD" which has been played over 10 million times across the world on Facebook. I also enjoy my charity work which I have been doing since I was 7 years old and continue to do so helping various charities where I can, I find it help keeps me grounded. I also enjoy the social elements to showbiz meeting new faces and travelling to different places.
3. You've met a lot of famous celebrities – who has been your favourite to work with and who has left you completely star struck?
I have had the pleasure of sharing the stage, warming up and working alongside many famous people over the years, one of my most favourite acts to open-up for was Keith Lemon at The Fosters Laughter Party in 2011. It was a star studded event with the likes of Kelly Brook, Jarad Christmas, and Michael Winslow all in attendance. So getting invited to his party was probably my first taste of been star struck and my first taste of fame and mingling with the stars as previously I had been writing comedy in my bedroom and then taking it to perform at all the local open mic nights across Yorkshire in the pubs and clubs.
4. If you could ask one question to any celebrity past or present who would it be and what would you ask?
I'd ask Prime Minister Theresa May if she has ever considered selling double glazing instead of being a politician, as they always keep coming back with the same deal.
5. What is your preparation for going on stage in front of an audience and how much of it do you have to make up as you go along given the unpredictability of live audiences?
I find music helps me, I am also a DJ and MC and have been in to dance music for as long as I can remember so a good euphoric tune can heighten my preparations and mood for going to perform at a live show, but truthfully I don't really have much time on my hands to get physicked up for shows these days, maintaining a family isn't easy, working a full time job selling cars in a office environment with ADHD is hard graft and then sometimes you can travel hundreds of miles across the country to go an do a show and by the time you arrive you're racing against time and it's straight on stage with very little preparation, I have done this that many times now it has just become to the norm and it's like stepping out of a reality, walking through the Stars In Their Eyes doors and back out again and it is on to being Ryan Swain the showman.
In terms of my performance, you never get the same audience twice and for me it's always about making the audience feel like they are the real stars of the show without them you wouldn't have a show so they are a key part to any performance and I always respect and appreciate that. I talk to them like I would a friend in the pub, make jokes with them naturally, address key points but make sure I engage with all generations in the audience and I am not just talking and applying to any specific age group.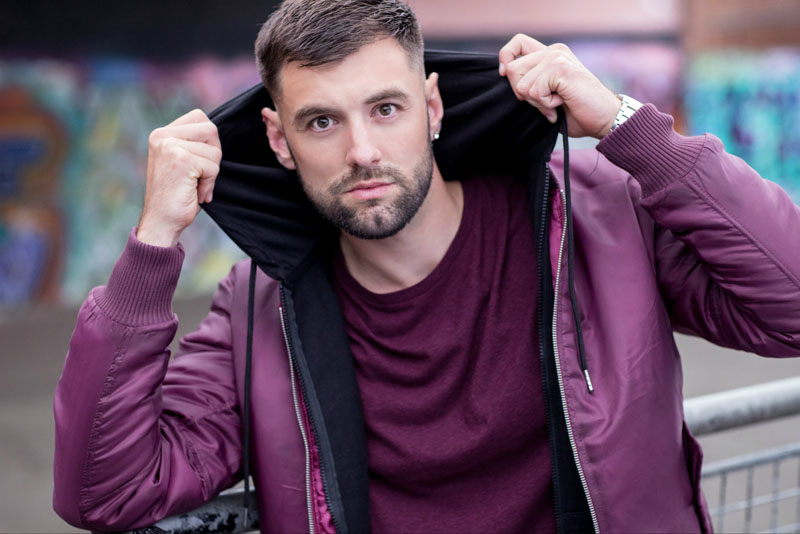 6. Has anything ever gone horribly wrong for you? How do you deal with something like that? 
Yes I have had a few bum crunching moments live on stage over the years they say never work with children or animals although working with some celebrities can be as just hard and if not worse. I warmed up for Katie Price opening a brand new attraction called Pirates of Zanzi Bar at Flamingo Land Resort in 2015 the crowds turned out a few of her fans all waiting patiently to catch glimpse of the pricey and she was over a hour late so the crowds turned on me as I was fronting the show then to make matters even worse it poured down with rain. When I was working at Haven in 2009 as a Fun Star in Burnham On Sea I was hosting a game show and picked a young boy in the audience to come up onstage as a volunteer and tell a joke, which I assumed to be a bit of fun and totally innocent and swore more times than somebody with tourettes and when it's live you can't bleep it.
Another incident occurred at Haven when I was hosting and leading Party Dances there and I fell off the stage and similar thing happened when I was an entertainer at Flamingo Land and my trousers fell down as I forgot to put my belt on. I also used to call the cash bingo there and once the machine froze and then reset it's self mid-game and caused pandemonium. My ways of dealing with it are usually to try and keep calm, keep on going and don't stop or draw attention there is something wrong and communicate with the audience at all times.
7. Tell us something interesting or unusual about yourself that people might not know? 
I have adult ADHD, attention hyperactive deficit disorder which people perceive to be something only children have which is wrong and as an adult can be even harder and more complex to channel and maintain. Luckily I have a loving and very supportive family network around which have helped me over come some very dark times. I have my coping mechanisms and accept what I am which is the biggest part to over coming anything like this. I am a dad to identical twin daughters, who were born on the 4th April 2015 and I am a member of TAMBA which stands for Twins And Multiple Births Association, I am a budding artist and love drawing, painting and sculpting. I am also a bit of petrol head and over the recent years since working around them have taken a keen interest in classic cars. I devote a significant amount of time to charity donating my services and time to helping others.
I am also a huge indie rock and roller and raver and show a passionate and keen interest in the music industry from decades ago. I love the 90's and often dip back in to it for inspiration and style. I was born with a heart defect called Patent ductus arteriosus (PDA) which is a condition in which the ductus arteriosus does not close. The word "patent" means open. The ductus arteriosus is a blood vessel that allows blood to go around the baby's lungs before birth. Soon after a infant is born and the lungs fill with air, the ductus arteriosus is no longer needed. It most often closes in a couple of days after birth. If the vessel doesn't close, it is referred to as a PDA. So basically a hole in my heart, it took until I was 4 years old to be discovered as I was happy but poorly looking child. I was rushed in to Killingbeck Cardiology Hospital in 1994 where I underwent revolutionary surgery which was keyhole surgery.
PDA leads to abnormal blood flow between the 2 major blood vessels that carry blood from the heart to the lungs and to the rest of the body. So I lived to tell the tale, since that moment I have always been grateful for my life and wanted to give something back to the less fortunate. Sadly a little boy who I made friends with on the same ward as me in hospital tragically passed away with the same condition.
8. We saw you MC'ing for Re-Take That last week. If you could pay tribute to any musician or go on Stars In Their Eyes, who would you go as?
I would be Liam Gallagher, I'm a fan of his music, style and OASIS I like his swagger and rock and roll image I have always been connected to him not only that I think he's very entertaining and quite possibly the greatest front men of my generation.
9. You're covering York Fashion Week next week, what has been your biggest fashion faux-pas? 
Yes on the 5th January 2019 I was headhunted and asked to be the official presenter for York Fashion Week, which takes place across the city I have always been a bit of a fashion guru and interested in fashion and art.
Every day is a fashion faux-pas for me, on a serious note I have tried and styled most modern trends and crazes over the last two decades and normally the look I was going for is before others have even heard of it and eventually it comes around to be the in look and one of the hottest trends so in way I am a bit of a trend setter however my worst  disaster I have had is probably shaving the sides of my head and dying a leopard print on it. I was going through the pop-punk stage in my life.
10. Do you want to plug the fashion show and tell us what else we can look out for from you in 2019?
Yes I been asked to present York Fashion Week and will be hosting some of the weeks major events including York born fashion designer Scott Henshalls fashion show with Lady Victoria Hervy at The Mansion House in York on Tuesday 26th March and I am also hosting the STYLE ME event at Micklegate Social on Wednesday 27th March I will also be performing a live DJ Set at this event playing classics and old skool and anthems. And finally I will be doing an Afternoon With Lisa Bryne former editor of OK magazine, I will be interviewing her on front of a live audience on Thursday 28th March at The Deans Court hotel in York where we will be talking about her career and all amazing features she covered as a journalist.
Over in to April I am back in Nottingham presenting An Evening With Boycie & Marlene at Eastwood Hall this is my second year of working with John Challis and Sue Holderness and was fortunate enough to have been booked to present the Only Fools and Horses Convention 2018 in Hull with some of the cast. I am a huge fan of the show so the show is something I know about.
I have over 50 live shows booked so far this year and they consist of me hosting the main stages at music festivals to warming audiences up at holiday parks, charity events, DJ sets and concerts. I am presenting and DJing the main stage at ROCK THE PARK in Wrexham in August supporting Basshunter, Love Inc, Ian Van Dahl, Ultrabeat, Rozalla, Kelly Lorrenna, Andy Whitby, Dee Dee, Coco Star, Micky Modelle, Angie Brown, Flip & Fill and K-Klass from Clubland. August is a mad month for me as I am go from one show to another. Another big one I have coming up is HUDDSFEST in Huddersfield and Wannasee in Penrith. I will also be back at Tribfest and Staxtonbury for a third consecutive year.
I am also doing a one off show with my puppet Frank Lamingo who has been seen on TV and at Flamingo Land Resort, he was originally created to fill the gaps in between artists at their popular Party In The Park concerts. He is renowned for his comedy renditions of popular songs in the charts and his big hit "I Like To Stand Up One Leg Sometimes" which is a parody of Tao Cruz's Dynamite. Frank was created by puppeteer Phil Fletcher who works for the BBC and created CBBC's Hacker The Dog. We are doing a big one off show at The Milton Rooms on Sunday 2nd of June to raise funds and awareness for Freddie Thompson who is only 3 years old and suffering with a rare and aggressive form of cancer.
And I have also been doing a lot of modelling and social influencing online for brands such as 11 Degrees, Rascal Clothing, BooHoo Man, Goodwin Smith Shoes, London Brogues and many more.
For more information or to find out where I am going to be next you can follow me on Facebook: Ryan Swain, Instagram: @ryanpaulswain or twitter: @RyanSwainTV or go on to www.ryanswain.co.uk