The bad boy of instrumentalists and founding member of 2CELLOS known simply as HAUSER took some time to chat to us about his favourite and not so favourite things. HAUSER has also previously announced his much anticipated, first-ever worldwide solo tour "Rebel with a Cello" which includes two UK dates at Manchester's O2 Apollo and London's The O2, see below for dates and tickets.
1. Thanks for your time, the shows are coming up in November. How are preparations going?
I couldn't be better prepared for the November shows as I've been on the road in Europe with this tour since Oct 8th.
We've already played over fifteen shows so we're match fit and at our peak!
2. What can fans expect from the shows and what are you most excited about?
The most exciting thing about playing live for me is to bring these marvelous recordings to life. The interaction with the audience is hugely important to me. I get energy from the room and I give each performance my all, every night. Not only does that make for great performances but it also keeps us very fit! Two hours of excitement, exhilaration and having a good time is good for the soul and good for the stamina.
3. Away from the time you're on stage, what do you to do pass on the time for the rest of the day?
We're on the buses a lot between the shows but we are a large family on the road, so we have a great time on and off the stage. There is plenty to keep me busy, from rehearsals, doing interviews, meeting people. We even have a football for a kick-around after the shows sometimes. If you follow my Instagram (hausercello) you'll get a good idea of life behind the scenes. It's fun.
4. What is your favourite and least favourite thing about touring?
Favourite – Playing to a different crowd each night. I genuinely feel inspired by playing to so many different people.
Least favourite – Sleeping on a moving bus can be hard sometimes.
5. Do you have any funny or strange stories from being on the road?
Too many funny stories to list here. But it was marvellous to have my dear friend Novak Djokovic come on stage and play sax with my band in Belgrade. It was a spontaneous moment. He was in the front row, so I made him an offer he couldn't refuse, to come and play! That's the sort of magic that can happen when you play live.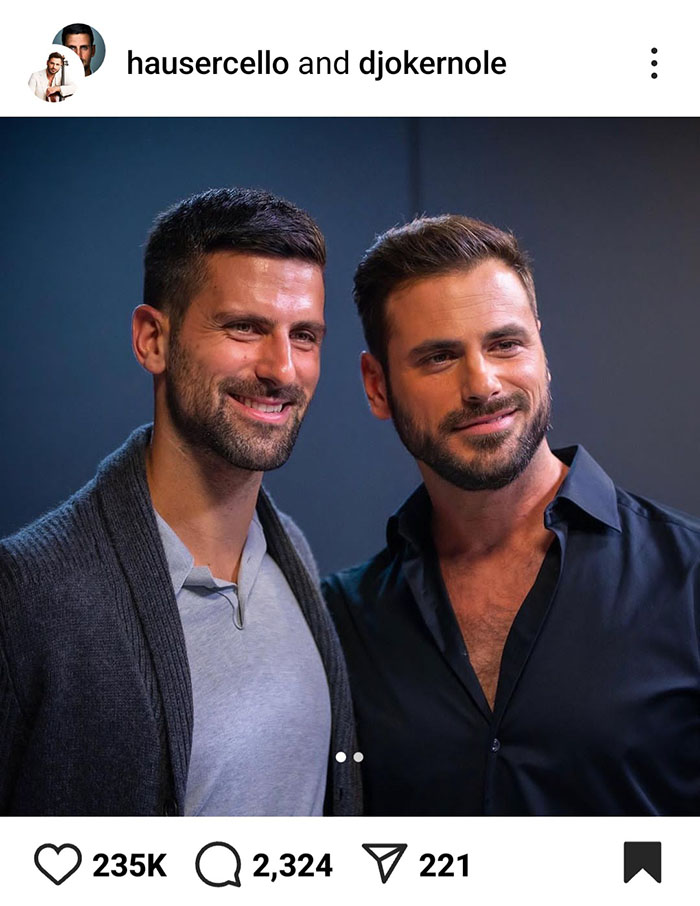 6. What about favourite venues, cities or countries?
Every place we go to has something special about them. It is a shame sometimes that we can't spend more time getting to know the people and places better, but the show must go on. However, I studied at the Royal Northern College of Music in Manchester, and at Trinity College in London, so both cities have a special part in my heart as they were such important and formative parts of my early career.
7. Is there a venue, anywhere in the world, where, if you headlined it, you could say that's the pinnacle of my career?
I don't really think in those terms. Of course, it is always amazing to connect with as many people as possible so playing in large venues is great. But also, some of the smaller intimate shows are as equally rewarding.
Oh yes, and half time at the Super Bowl would be good!
8. If money was no object, what would your ultimate live show be?
Yeah, thinking about it maybe half time Super Bowl would be really good…
9. So HAUSER, just for fun, you appeared on Love Island earlier this year. If you asked your best friend to write your dating profile for you what do you think they would write?
The king of romance, obviously.
10. Just to wrap up, how would you sum up 2023 for you and what are your goals for 2024?
2023 has been incredible. I have recorded two albums, the first of which 'Christmas', has just been released – my favourite Christmas songs arranged as I have always wanted to play them. I have finally got my first solo tour on the road. That's a dream. And for 2024…well '23 has been so good, let's do the same again. Another album, more touring around the world. This is only going to get bigger!
HAUSER'S REBEL WITH A CELLO' Worldwide tour. UK DATES:
Saturday 11th November 2023 – Manchester O2 Apollo
Sunday 12th November 2023 – London The O2
HAUSER VIP meet and greet packages available HERE.
Tickets from Eventim.co.uk, ticketmaster.co.uk, axs.com – On Sale Now.