Jordan Red are releasing their brand new single 'Don't Let The Heavens Fall' on 15 May 2020, mixed and mastered by Romesh Dodangoda. 'Don't Let The Heavens Fall' is written as a warning that "those who cannot learn from the past are condemned to repeat it". It rejects modernist nihilism whilst shining a light on the corruption, greed and malice of subversive forces working to tear down civilisation as we know it; a call to action for the individual to rise up and overcome the inertia of a creeping totalitarian state and fight for a future worth living. We managed to have a quick chat with Jordan Red ahead of the release.
1. Thanks for your time. In these crazy times, how are you passing your time while in lockdown?
Thanks for having us! It's coming up to a month since we started social distancing here so we've been keeping the cabin fever at bay with home workouts and continuing to push our debut single 'Beautiful Monsters'. With all the extra time on our hands it's also been good to start the ball rolling with new ideas that have been sitting around for a while.
2. What is the one thing you miss from your daily life in London and what is the first thing you'll do when the lockdown is lifted?
Probably hanging out with friends and going to shows! I think everyone just wants this to be over so we can have our freedoms back. It's the simple things like going to restaurants, coffee shops or being able to travel.
3. You put out a single, Beautiful Monsters, at the end of February. How has the coronavirus pandemic affected your plans?
Beautiful Monster's release has gone down well and is part of a bigger plan already in place so at this point it has been ok. The lockdown has given us a chance to work with Elisa Schillaci again and produce an apocalyptic piece of artwork for our next single "Don't Let The Heavens Fall".
We've also adapted our release schedule and will be putting out "Don't Let The Heavens Fall" on 15th May so rest assured this won't slow us down
"Don't Let The Heavens Fall" is now available to pre-save on Spotify here: smarturl.it/DLTHeavensFall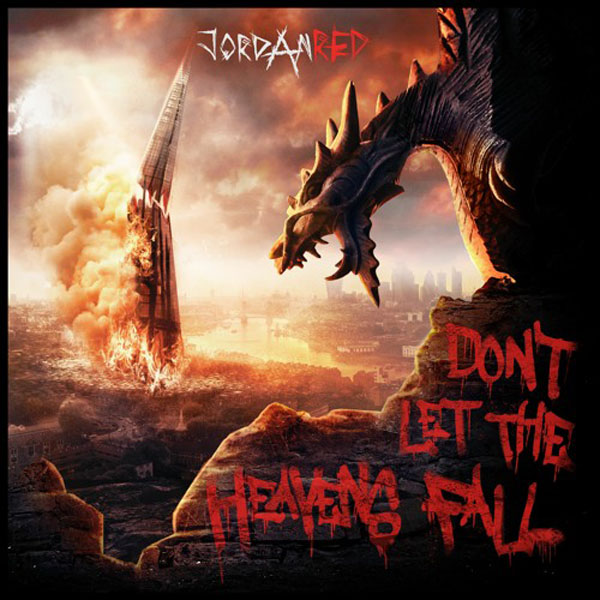 4. What are you doing to keep promoting the band during the lockdown ?
We've been staying active on all our social media channels and reaching fans through new Spotify playlists and our video for 'Beautiful Monsters' on Youtube.
We wanted to give something back to the fans for all their support around the release of 'Beautiful Monsters' so we have been giving away a free download of our track 'Cast A Flame'! You can get that here: https://www.jordan-red.com/free-download
5. For those of our readers who don't know much about Jordan Red, could you tell us a quick life story?
I heard Dan Leigh singing in New Device and knew I wanted him to be the frontman for Jordan Red. We had both worked with Romesh on different projects in the past and we ended up booking studio time before we even had any songs – there's nothing like a deadline to get things done!
Beautiful Monsters was the first song we wrote together in that session. This was the one that set us on our path and got us really excited about the direction we were taking.
 
Fast forward slightly, we had dates booked with Romesh at Long Wave in Cardiff and as we got closer to the time it became clear we had to get in a different bassist and drummer. That's how Conor and Dave from As Lions got involved, we couldn't have got it done without them so we're really grateful that happened. Those sessions were a blast and we ended up going back and recording an album of material!
6. The lockdown has affected the music industry massively, how do you think the London scene will look when we come out of the other side of this – independent venues, promoters, small bands etc.?
I really hope that when we come out the other side of this people will stop taking the grass roots music scene for granted. The best thing to see right now is how people are pulling together and finding ways to support bands and venues as best they can. 

At the end of the day we all want a scene to go back to when this is over so any support right now is really appreciated. It can be as small as subscribing to channels or liking and sharing content. If people are in a position to buy extra merch then that's also going to help bands get through this and keep putting out music as well.

If people keep their gig tickets, keep playing, keep making music and go to shows when lockdown is lifted then the scene will come out the other side of this much stronger and hopefully with a bigger sense of community than before.
7. What is the one lesson you hope that people have learned from coronavirus?
Once we are through this I hope we take a real look at how we can prevent anything similar from ever happening again. That's going to involve a lot of difficult questions for all of us.
Everyone was caught sleeping on this one especially here in the UK and Europe.
I wonder what would have happened if travel restrictions had been put in place after the first cases began to appear in Wuhan. Perhaps that would have been the case if we had known the true extent of what we faced.
We should ask ourselves why anyone would trust the words of a government that silenced one of its own doctors for trying to warn the world before it was too late. How much has this cost us? Only time will tell at this point.
Here this has also revealed the chronic underfunding the NHS has suffered for the last decade and how we can't even provide all front line staff with PPE. If we want the NHS to be there to help us in future then we collectively need to agree that it requires adequate funding and we need to take enough personal responsibility for our own health to not be an unnecessary burden on the system before it collapses.
It's also about time we stop taking our medical advice from click bait media that downplayed this virus for cheap political point scoring every step of the way. The same goes for the politicians that were telling people to continue travelling or to gather in groups whilst labelling the stories out of Italy as fear mongering and calling the virus "just the flu".
At this point none of us know what the future holds and we don't know what the long term effects will be on people that have caught the virus and recovered either so it's probably time we actually listened to scientists, doctors and nurses that are studying it.
8. Which five albums are you listening to at the moment to help you through this?
Ocean Grove – Flip Phone Fantasy

Five Finger Death Punch – F8

Lost Society – No Absolution

Rivals – Damned Soul

Tool – Fear Innoculum
There's been quite a lot of variety but definitely on the heavier end of things right now. The new Five Finger Death Punch and Lost Society albums have both been on rotation in the car and gym!
Spotify put 'Rivals' in one of my daily mixes a while ago, I'm glad I found this album as it's really high energy. On that note, I can't get enough of the new Ocean Grove record 'Flip Phone Fantasy' at the moment so that's been on repeat most days.
Tool is great isolation music when you just want to shut the world out so 'Fear Innoculum' has been my 'go to' for when I just want to switch off my phone. It's too easy to stay glued to the news cycle right now so I've had to make time to disengage and focus on what I can actually control instead of reacting to everything outside.
9. Just for fun: What would be the creepiest thing you could say while passing a stranger on the street?
How would your life be different if you acknowledged your role in creating the negative circumstances you've blamed on other people?
10. Thanks for your time. Any message to fans and friends out there?
Thanks to everyone that has helped support us with the release of 'Beautiful Monsters' by sharing it with friends, liking our posts or subscribing to our social media channels!
Stay tuned for what comes next by following us at any of the links below or joining the mailing list.
As for the lockdown, stay positive, check in with your friends and family and remember that "this too shall pass."