If you are heading to Vietnam on holiday you might be interested in checking out the Tết festival.
What is the Tết festival?
Tết marks the first day of the New Year, and the beginning of spring in northern Vietnam. The holiday dates back to the early days of Vietnamese settlements in the Red River Delta, when Tết marked a new cycle of wet rice cultivation. Today, the significance of the holiday goes much deeper: Vietnamese culture emphasises the importance of a happy new beginning, surrounded by family and loved ones. A traditional Tết dinner is therefore an important opportunity for family members to get together and talk about the past year. Each region has its own version of the meal. Many dishes symbolise the passing of hardship, but also new hope for the new year.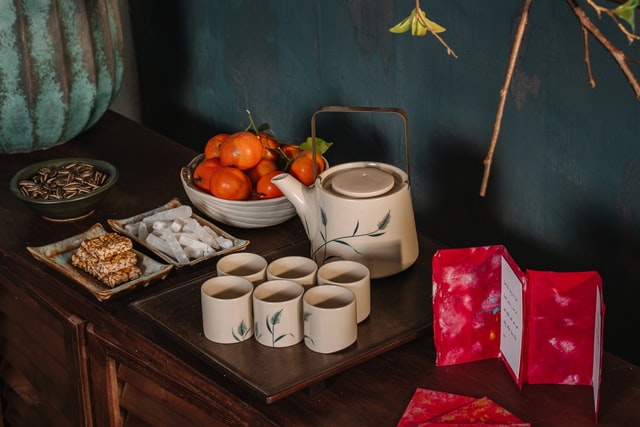 Music during Tết
Music is an important part of the Tết festival. Most of the music is fast and cheery, encouraging people to dance and have a general good time. EDM is a popular genre during Tết. While most music played during Tết is Vietnamese, don't be surprised if you hear an international song here and there. During Tết, you will see people on the streets dancing like dervishes. Don't be afraid to join in!
Celebrating Tết in different cities
Tết festival is celebrated in different ways in Vietnamese cities. In any case, all major cities in Vietnam set off fireworks on Tết night (February 11), so find a spot outside and watch the sky light up at midnight.
Tết in Hanoi
The Vietnamese capital is one of the best places for tourists to celebrate Tết. You can hear cheery music on the streets throughout the day. At midnight, fireworks erupt all over Hanoi, including Thong Nhat Park, Van Quan Lake, Lac Long Quan flower garden, My Dinh stadium and Hoan Kiem Lake. On the fifth day, Hanoi residents flock to Dong Da Hill for the Dong Da Festival, which commemorates the victory over the invading Chinese troops. More than 200,000 Chinese soldiers are buried under these hills. Also throughout Tết, a calligraphy festival takes place on the grounds of the Temple of Literature in old Hanoi.
Tết in Ho Chi Minh City
The flower festival along Nguyen Hue Walking Street transforms this pedestrianised boulevard into a flower-themed carnival, filled with blossom displays, artworks and light shows. At midnight, fireworks shows are held at six locations in the city: the Thu Thiem Tunnel, Dam Sen Park, Cu Chi Tunnels in Cu Chi District, Rung Sac Square in Can Gio District, Lang Le-Bau Co historical site, and the Nga Ba Giong Memorial. In District 1, a book festival takes place from the first to the fourth day of Tết at Mac Thi Buoi, Nguyen Hue, and Ngo Duc Ke streets.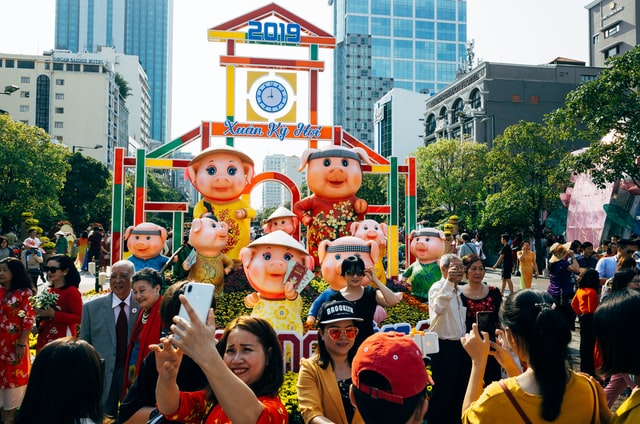 Tết in Hoi An
You can soak up the Tết atmosphere by just walking or cycling through the old quarter, but there are also special events and activities to take part in. For example, a boat racing competition takes place on the second day of Tết to honour the God of Water. A week-long lantern festival also takes place from the beginning of Tết. Visitors can also enjoy free outdoor music performances, lantern-making workshops and a lantern parade through the streets. Or you can visit the Bai choi folk song exhibitions, where you can enjoy traditional choral music from central Vietnam.
Traveling during Tết
Tết is a great time to see Vietnam at its most colourful, especially in the cities of Hue, Hanoi, and Ho Chi Minh City. Tickets sell out quickly and transportation before and after Tết is unreliable. The best option is to stay in one place while the crowds subside. Keep in mind that many tourist attractions will be closed for several days between Tết.
Furthermore, for any trip to Vietnam, including during the Tết Festival, it is important to check if you need a visa for Vietnam. Since 2018, this visa can be applied for entirely online. This so-called e-visa (electronic visa) for Vietnam replaces the old visa on arrival.
British nationals can actually stay in Vietnam for up to 15 days without needing a visa. However, for stays longer than that, a visa is mandatory. In order to be eligible for the online visa, you must arrive at one of the permitted arrival locations in Vietnam. If you are planning to celebrate the Tết Festival in one of the above cities, you can easily fly there with the e-visa.