Once again opening the gorgeous Lake District to the world, Kendal Calling is set to return in style with a formidable festival weekend. Set for July 29th-August 1st and rich with undeniable moments and heavyweight headliners, the 2021 edition sees a true coming together that festival-goers have been waiting for.
Stereophonics sit as one of the UK's most successful bands of the past 25 years, scoring number one after number one with their ready-made anthems and euphoric live shows. Led by Kelly Jones, one of the great British songwriters, their headline turn in 2017 stands as one of the greatest in the festival's history – and with new album 'Kind' continuing their run of number one albums at the end of 2019, they were the first band to call to soundtrack Kendal Calling's 15th birthday celebrations, even if it's delayed by one year…
There may not be a more perfect headliner for Kendal Calling 2021 than The Streets. An undeniable icon in British music culture, Mike Skinner over the course of nearly 20 years has impacted and shaped the sound of modern life in the UK and beyond. Recognised as one of the best live acts on the planet, his no-holds-barred hit rate of festival anthems brings the fire every single time. From 'Fit But You Know It', 'Don't Mug Yourself', 'Has It Come To This', 'Blinded By The Lights' and 'Turn The Page' to the soaring emotion of 'Dry Your Eyes', 'The Escapist' and 'Never Went To Church' – Mike Skinner and The Streets are unrivalled in defining moments in time. Heading to the fields this summer, get ready for the perfect bottle-popping headline celebration that an entire nation has been waiting for. Lock down your aerials.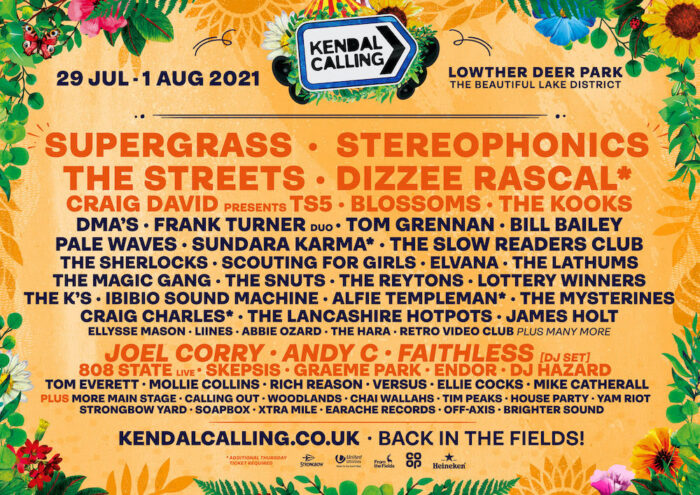 Expect soaring singalongs to ring out as the returning Supergrass make their Kendal Calling debut, celebrating over 25 years since the Oxford outfit's Mercury-nominated No.1 debut album release 'I Should Coco'. Bursting onto the scene with infectious hooks and melodic charm, scooping Brit, Q, NME and Ivor Novello-Awards, the 1995 album marked the beginning of nearly two decades of chart-topping success. Expect a career-spanning Greatest Hits set to be blaring from the rafters as their beloved reunion rolls into Kendal Calling 2021.
Kicking off Kendal Calling 2021 as the special Thursday night headliner, Dizzee Rascal knows how to turn a festival inside-out with a truly 'Bonkers' headline display. One of the biggest chart toppers of the century, his ultimate jukebox of pop smashes will go down a storm once again in the heart of the Lake District.
With many MANY more names set to be announced over the coming weeks and months, Kendal Calling once again stands as an undeniable festival standout this summer – providing the celebratory weekend of glory this summer, full of cherished moments of festival bliss and emphatic memories from start to finish. With stage takeovers from famed label Xtra Mile Records, Earache Records, BBC Introducing In Cumbria and more set to be revealed, alongside Kendal Calling's unrivalled family lineup, Soapbox comedy stage, emerging House Party stage, cult classic Woodlands stage, eclectic Chai Wallah programme and much much more – Kendal Calling 2021 is heralding the return of festivals with a perfect coming-together you can only find at Lowther Deer Park.
With a vast number of 2020 ticketholders choosing to carry-over their tickets to 2021, a limited number of weekend tickets are now on sale, with fans encouraged to grab their place at the biggest festival party of the summer ASAP.
TICKET INFORMATION
Tickets available from: www.kendalcalling.co.uk