It's been a long time coming, but arguably the nation's most beloved festival Kendal Calling has announced its grand return to the fields in July 2022 – bringing together an unmistakable blend of huge headline moments, incredible new talent, unrivalled entertainment for all ages and much more to Lowther Deer Park once again!
Regularly acclaimed as one of the best festivals in the UK, Kendal Calling has become a true emblem of the complete festival experience. Of heading to the front and meeting friends new and old, all whilst catching some of your favourite bands tear apart blistering set after blistering set. Basking in a weekend in one of the most picturesque festival sites in the country, before heading into The Woodlands to find what surprises await. Over the course of nearly 15 years, Kendal Calling has been a welcoming invite into an atmosphere full of countless highlights and most importantly – fun. 2022's return looks set to be no different, with the first names and details pointing to a landmark year that can't be refused.
Stereophonics sit as one of the UK's most successful bands of the past 25 years, scoring number one after number one with their ready-made anthems and euphoric live shows. Led by Kelly Jones, one of the great British songwriters, their headline turn in 2017 stands as one of the greatest in the festival's history – and with hotly anticipated new album 'Oochya!' set for release on March 4th 2022 and new single 'Do Ya Feel My Love?' standing as an emerging anthem and fan favourite for the band, Stereophonics were the first band to call to soundtrack Kendal Calling's 15th birthday celebrations, even if it's slightly delayed…
Speaking about their headline slot at Kendal Calling 2022, Stereophonics said:
"We played Kendall Calling in 2017. It's a great festival on a beautiful site with a fantastic crowd. We really enjoyed playing it back then and we can't wait to headline the Saturday night next summer. See you there!"
TICKET INFORMATION
Tickets available from: www.kendalcalling.co.uk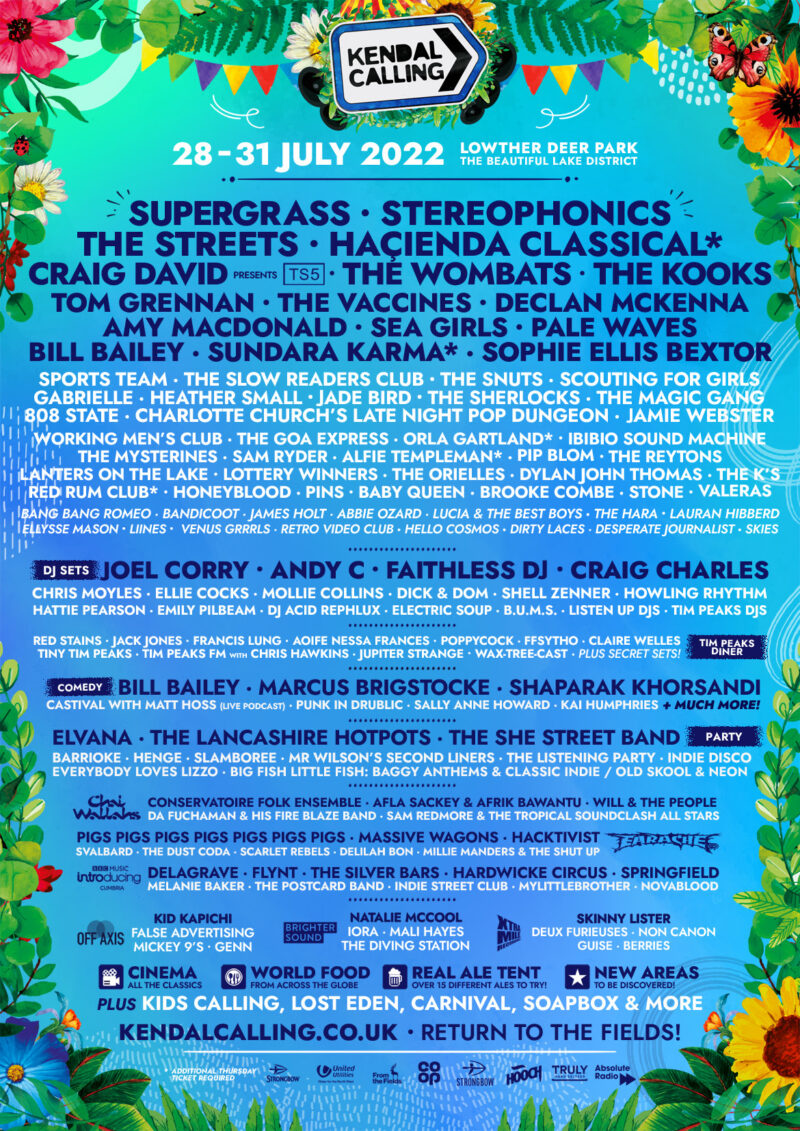 There may not be a more perfect headliner for Kendal Calling 2022 than The Streets. An undeniable icon in British music culture, Mike Skinner over the course of nearly 20 years has impacted and shaped the sound of modern life in the UK and beyond.
Continuing their rich reunion run that has brought back glorious memories of one of the UK's most delightfully entertaining bands, Supergrass take their rightful place at the top of the bill at Kendal Calling 2022. With an eclectic mix of rapturous singalong favourites at their disposal, including the likes of 'Alright', 'Pumping On Your Stereo' and 'Moving' to name but a few
Spanning across the Arts world, Kendal Calling 2022 is bringing laugh out loud comedic greats to the fields for hilarious sets and performances. Kendal's Comedy lineup in 2022 is lead by one of the most recognisable figures in British comedy: Bill Bailey. With a storied career of arena-sized performances, his shared love of music and side-splitting humour make him a perfect fit for a stunning set at this year's festival – taking to the Main Stage for a special performance for the Kendal faithful. With the likes of Shaparak Khorsandi and Marcus Brigstocke also confirmed for performances on the festival's famed Soapbox comedy stage in the first batch of names – it ensures a hilarious trip is waiting at Kendal Calling this summer.
Spread across one of the most beautiful festival sites in the country, every corner of Kendal Calling is ready to be discovered – filled with eclectic entertainment that'll intrigue, suprise and entertain all ages. Want to jump on stage and singalong to some big time hits with Barry from Eastenders? Well, Barrioke is here. And much much more.