Hot off the heels of a 15th anniversary celebration, Standon Calling reveals the first names for next year today. With clear intentions to carry on the party into 2022, it must be Madness kicking off the weekend's proceedings!
Announcing a Thursday main stage headliner for the first time in Standon Calling's history, the cherished festival expands to four full days of music, and gets the party started right from the off with a crowd pleasing array of acts.
Madness will be making their highly anticipated Standon debut following enormous popular demand from loyal attendees over the years. A truly iconic and fun-loving British band, Madness know how to put on a show and entertain all ages with their expansive and unmistakable catalogue of nutty ska pop hits. Taking place only 45 minutes up the road from their North London home in the beautiful Hertfordshire countryside, there's no better band to get you loosened up for a welcoming weekend escape – filled with music, comedy, late night dancing, discovery, dogs and family fun!
With a reciprocating sense of excitement, Madness say… "Standon… North London Calling… Madness are coming! It's been over 2 years since we were let loose in the fields of green and we can't wait. Can we judge the dog show please?"
Joining Madness on Thursday night, and throughout the day, includes the legendary London R&B singer Gabrielle. She'll be bringing summer vibes with all the feel good favourites – 'Sunshine', 'Dreams', 'Rise' and more – whilst basking in the success of her big comeback album 'Do It Again'. Expect a joyous homecoming show from Welwyn Garden City's own, The Subways, bringing their world renowned high-octane live show to Standon Calling for the very first time.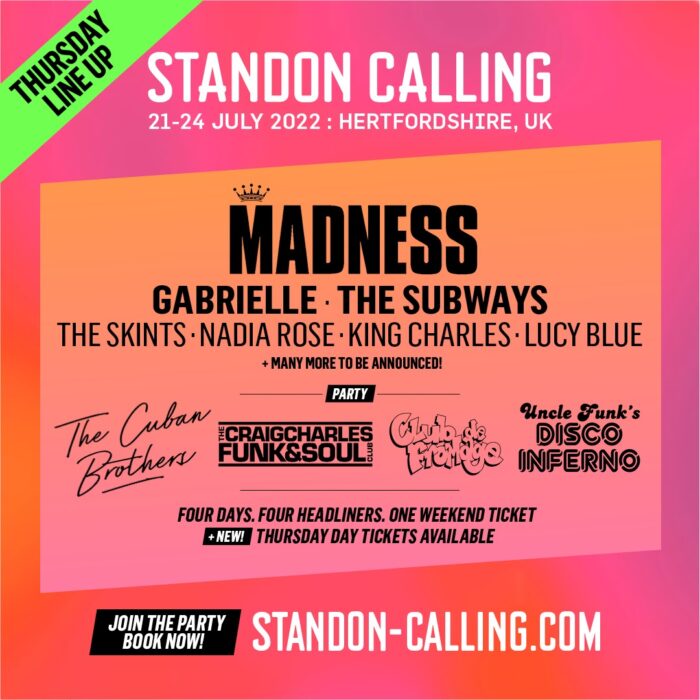 Adding a spirited blend of reggae, ska-punk and uplifting hip hop to the mix, The Skints effortlessly complement the weekend's opening bill next to Croydon's Nadia Rose – a rapper who's come from growing up with her cousin Stormzy to writing songs for Rihanna and Melanie C. Also joining the bill today is the rising 19 year old singer, songwriter and producer from Dublin, Lucy Blue, and the eclectic festival favourite King Charles.
On top of these big names and festival firsts, Standon Calling stands to keep the party thriving on, serving up a vibrant taste of what's to come today. Unveiling a range of names to start the dance, there's everything from The Cuban Brothers' sassy theatrics and the equally unrestrained Club de Fromage, to the legendary Craig Charles Funk & Soul Club and Standon stalwarts Uncle Funk's Disco Inferno.
Three more headliners and many more acts are still to be announced, across over 5 stages of music, comedy, late night DJs and a whole host of family entertainment, parades and more. Festival Founder and Director Alex Trenchard says about the summer ahead at Standon Calling in 2022:
"We can't wait to pick up where we left off… From getting the chance to celebrate together in what was one of our best years yet, and totally against the odds, we're now excited to extend the good times even more with an even bigger event in 2022. Getting the chance to welcome Madness, one Britain's all time greatest acts, is a dream come true and a moment we've longed to share with you all for years. See you all at Standon next July!"
For the first time ever, a limited number of Thursday Day tickets are available now, going on sale today alongside the last remaining Tier 3 weekend tickets – which now include four headline shows at no extra cost! All tickets are available via: http://www.standon-calling.com/tickets
Announced Today
MADNESS
GABRIELLE, THE SUBWAYS
THE SKINTS, NADIA ROSE, KING CHARLES, LUCY BLUE
THE CUBAN BROTHERS, CLUB DE FROMAGE
CRAIG CHARLES FUNK & SOUL CLUB, UNCLE FUNK'S DISCO INFERNO
ALL TAKING PLACE IN A STUNNING HERTFORDSHIRE COUNTRYSIDE SETTING BETWEEN 21-24th JULY 2022
LIMITED WEEKEND AND THURSDAY DAY TICKETS ON SALE NOW
https://standon-calling.com/