Whilst anticipation continues to grow for the return of Europe's definitive home for music discovery, Sound City, in October – Sound City Digital will make a triumphant return at the end of April for 6 days of showcases, headline performances and in-depth conference programming perfect to kick-start a new era for new music.
Broadcast through Sound City's acclaimed Guesthouse platform, Sound City Digital brings a mix of free-to-air and quality showcase programming to the fore. Teaming up with partners such as AIM (Association Of Independent Music), BBC Horizons, Brighter Sounds, Horus Music, TuneCore and Black Lives In Music as well as bringing names such as The Snuts, Oscar Lang, Ayishat Akanbi and Seye Adelekan to the fore through performances and in conversation discussions – it's an unmissable week for those looking to the future of the music industry.
It's led by a hotly anticipated live-stream performance from chart-conquering indie force The Snuts – celebrating their debut album 'W.L.' topping the UK Album Chart with a storming performance live from Glasgow's The Tall Ship. Free to watch, it promises to be a full-throttle reminder of their place at the top of the indie world in 2021.
Throughout the week, headline performances will provide an opportunity for fans and industry alike to catch a peek at the acts ready for massive years ahead. Expect more stand-out performances to be announced soon, whilst burgeoning tipped-favourites Rianne Downey, Brooke Combe and Tom Rogan will all make their mark on crowning nights of Sound City Digital.
Cementing its place as the perfect opportunity to discover brand new artists primed to take on the return to live music this year – a string of showcases curated by partners from around the world will soundtrack Sound City Digital evenings. Whether it's a trip to the best in emerging Welsh talent with BBC Wales and Horizons / Gorwelion (including 15 acts handpicked as ones to keep an eye on in the years ahead), SaskMusic serving up exciting new sounds from Canada, the Korean Cultural Centre dropping in with unmissable performances from artists soon to make waves in Korea and beyond (including talked-about K-Pop royalty Bibi) as well as more from Horus Music and Sound City's own Launch platform (powered by CAPLL) – each and every night there's a brand new artist waiting to be discovered and championed.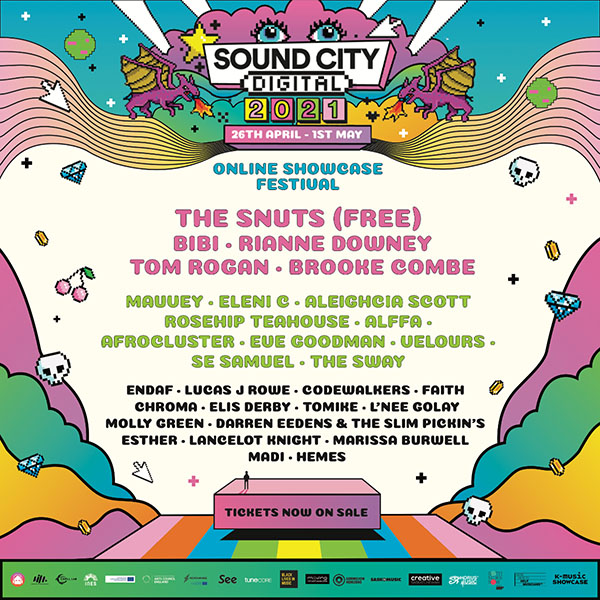 A vital pillar of everything Sound City stands for, Sound City Digital will be full of insightful, in-depth and inspiring discussions and talks – with its conference arm sitting as a look into the current trends and future growth in various sectors of the music industry. Powered by CAPLL and free to view by all, the Sound City Digital Conversation will be led by key In Conversation talks from leading cultural commentator and stylist Ayishat Akanbi and longstanding Gorillaz band member Seye Adelekan. With topics guest-curated by AIM such as TikTok & Fan Engagement In 2021 + Beyond. Other guest curators such as BBC Horizons: The International Language Of Music and a special panel by TuneCore and Black Lives In Music on What Does Success Look Like In Today's Music Industry?
The conference is essential for all of those making their mark on the music industry. As the lead UK festival partner for Keychange, Sound City Digital will also explore Both Sides Now:The Manifesto for Change and Moving the Needle presents: 'You don't have to hold a mic to be part of our industry', tackling a huge talking point for how the wider music industry can improve and grow when it comes to representation in the years ahead. An unrivalled programme of talks and discussions cements Sound City Digital as the perfect home to learn and gain insight into what the music industry does next.
With special guest headliners and even more programming to be announced, Sound City Digital is the comprehensive online package for those searching for the best in new music and pinpointing to what comes next for an entire industry. With certain shows available to watch for free via Guesthouse, and the full programme across the 6 days available for just £10 (+ booking fee) – Sound City Digital is an essential date in the diary to kick-off the future.
Tickets
All tickets purchased for the May 2021 dates are valid the new October dates, for full details head to:
https://www.soundcity.uk.com/
General Sale Ticket Prices are priced at:
Weekend (3 Day Tickets): £59.50
VIP (3 Day Tickets): £75