The open-air concert series South Facing concludes its first wave of shows. In what is a truly stellar line-up, London Grammar, Jungle, Bombay Bicycle Club, Richard Ashcroft, Kamasi Washington, Ezra Collective, Becky Hill, and the English National Opera will all be headlining the Crystal Palace Bowl this summer. Support acts across the six shows include Jordan Rakei, Nilüfer Yanya, George Fitzgerald, Tora-I + Oklou (DJ Set), Ella Eyre, Sinead Harnett, and Nala Sinephro, with more special guests still to be announced!
Announced yesterday – 21st March – the English National Opera brought the first wave of show announcements to a close. Please see below for links to tickets to this show.
Local Tickets – Tuesday 22nd March – 10am
Presale – ENO Members, & O2 – Wednesday 23rd March – 10am
Presale – Ticketmaster, Live Nation, South Facing – Thursday 24th March – 10am
Onsale – Friday 25th March – 10amSIGN UP NOW
Placed within the breath-taking location of a natural amphitheatre facing lake, South Facing is a truly innovative concert space with its stage 'floating' on the lake amongst the lush backdrop of one of London's best parks. This truly unique setting will help to create moments to remember for all in attendance as fans will be able to witness some of their most loved artists in a venue space unlike anything they have experienced before.First to be announced for South Facing 2022 was London's own Jungle. Since their debut album was released in 2014, the funk and soul-infused electronic duo have become one of the best and most exciting names within British music. Having released their third studio album – 'Loving In Stereo' – in 2021 to monumental critical and commercial success – gaining a 9/10 review from The Line of Best Fit and a 4* review from NME – the Mercury Prize Nominated band are now poised to bring their phenomenal live show to the Crystal Palace Bowl on Saturday 30th July.
Also announced are the exceptional London Grammar, whose musical aesthetics span across indie, pop, electronic, and more, acting as the perfect companion to the astonishing Crystal Palace Bowl locale. With three studio albums to their name – including their x2 Platinum debut album 'If You Wait' (2013) and UK no.1 album's 'Truth Is A Beautiful Thing' (2017) and Californian Soil (2021) – London Grammar have a catalogue overflowing with fan-favourites, such as 'Strong', 'Wasting My Young Years', 'Baby It's You', 'Let You Know', and 'Hey Now'. With support sets from George Fitzgerald, Tora-I + Oklou (DJ Set), and more special guests still to be announced, London Grammar's South Facing show on Friday 29th July is not-to-be-missed!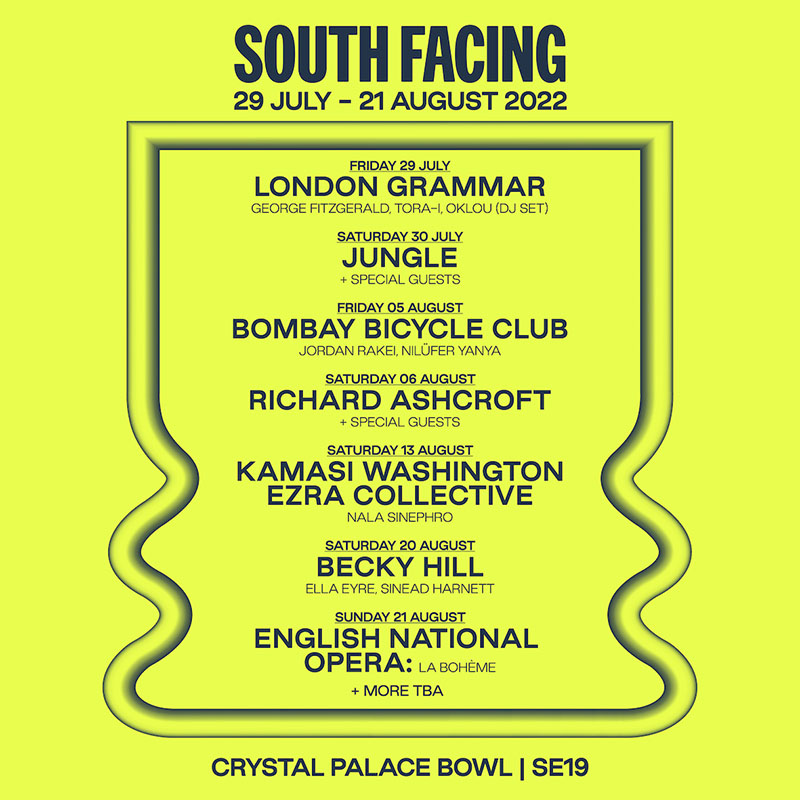 Next to be announced was the iconic Bombay Bicycle Club. For over a decade, the North London native's sound has never stood still as they manoeuvre between a diverse spectrum of influences, all the while maintaining their unmistakable indie/alternative music characteristics at their core. With 5 studio albums to their name – four of which entered the UK top 10 – it would be impossible to write the narrative of the British alternative music scene in the 2010s without mentioning Bombay Bicycle Club as a leading component. They'll be playing their headline show at South Facing on Friday 5th August, with support slots from the genre-fusing multi-instrumentalist Jordan Rakei and the endlessly soulful singer-songwriter Nilüfer Yanya, as well as additional special guests still to be announced.
Headed to the Crystal Palace Bowl on Saturday 20th August is dance and pop sensation Becky Hill. Having amassed a monumental 17.3 million monthly listeners on Spotify as well as 8 top 20 UK singles, the 2022 Brit nominee and winner is poised to bring her dancefloor-focused anthems to South London this summer. Expect to hear huge tracks 'Lose Control', 'Gecko', 'Remember', 'Afterglow', and many more when she takes to the stage. Joining her as support acts are Ella Eyre and Sinead Harnett, as well as more special guests still to be announced.
Also announced is a joint headline show between Kamasi Washington and Ezra Collective. Perhaps the most esteemed global name from across all of modern jazz, Kamasi Washington has worked alongside the likes of Kendrick Lamar, Herbie Hancock, Flying Lotus, Thundercat, Run The Jewels, and Robert Glasper, to name just a few. He has helped to dismantle the barriers between mainstream popular music and modern jazz, dissociated jazz from elitist culture, and has been integral to the 2010s jazz revival era, re-establishing jazz as focal to the popular culture zeitgeist once more. Joining him is London's own Ezra Collective, who have been an intrinsic part of London's 2010's jazz renaissance, helping the city to become widely regarded as the place-to-be for modern jazz. They are a leading name within the genre and together with Kamasi Washington will be showcasing their raw and artistic prowess when they take to the stage on Saturday 13th August. Supporting them is the ambient jazz évocateur Nala Sinephro, whose debut album 'Space 1.8' was released in 2021 to monumental critical acclaim, landing itself in multiple Best Albums of The Year lists including Pitchfork, Esquire, and DJ Mag. Her smooth and sumptuous stylings that incorporate everything from nu-jazz to space jazz are a much-welcomed addition to what will be a celebration of contemporary jazz at South Facing 2022.
Continuing the exceptional line-up of names, South Facing is proud to be welcoming British music royalty Richard Ashcroft to the Crystal Palace Bowl in 2022. Following on from his career as frontman of legendary band The Verve, Richard Ashcroft forged an immensely successful solo career, with all six of his studio albums entering the UK Top 5 album charts, including five UK Top 3 albums and one UK Number 1 album. His ability to span almost three decades of popular culture is testimony to his acclaimed artistic abilities, and the UK music landscape would undoubtedly not be the same without his imprint. Now, on Saturday 6th August, the rock n' roll icon will bring his catalogue of anthems to south London. Fans can expect to hear classics such as 'A Song For The Lovers' and 'Break The Night With Colour', as well the historic hit 'Bittersweet Symphony', which Ashcroft recently re-arranges for his 2021 solo album, 'Acoustic Hymns Vol. 1'.
Finally, announced yesterday was the world-renowned English National Opera (the ENO) who will be headed to Crystal Palace Bowl on Sunday 21st August to perform Giacomo Puccini's La bohéme. The ENO is unique in its approach to opera, performing their repertoire in English, either by translating non-English operas or through showcasing a diverse array of operas that were originally written in the English language. They are a historic institution within the UK's arts culture through their ability to make opera accessible to the masses.
Presales for ENO members and O2 Priority customers begin Wednesday 23rd March at 10am, followed by Live Nation, Ticketmaster and South Facing presales on Thursday 24th March at 10am, with general sale tickets available from Friday 25th March at 10am. South Facing tickets are available HERE.
In the coming weeks, South Facing will announce additional days of this year's edition of the concert series.
To purchase general admission tickets for this year's South Facing, please follow the link HERE.
Locals to Crystal Palace will be eligible to purchase a limited number of discounted tickets for each show day, with prices starting from £30.00 and capping at £35.00. To purchase these tickets, locals can follow the link HERE.