The Great Escape today announces a further 100 artists to play this year's Brighton festival, featuring some of the most exciting names in new music, including Rebecca Black, The Amazons, Yard Act, Sinead O'Brien, Baby Queen, and many more. The Great Escape, the festival for new music, will be kicking off the 2022 festival season, playing host to more than 450 up-and-coming artists and hotly tipped talent across 35+ walkable venues, alongside the music industry led TGE conference, from 12-14 May 2022 in Brighton, England. Tickets for The Great Escape festival start from £75 and are on sale here.
From the UK live return of American queer hyperpop artist Rebecca Black, to rock riffs and licks from Reading's The Amazons, The Great Escape 2022 line-up champions upcoming talent from a wide variety of genres. Artists announced include Gen Z grunge pop singer Baby Queen, observational and acerbic post punk from Leeds' Yard Act, post-punk poet Sinead O'Brien, TikTok star-turned-solo musician Abby Roberts, Scottish singer-songwriter Dylan Fraser, rising star Lola Young, American singer-songwriter Indigo De Souza, Liverpool alt rockers Crawlers, Irish rapper Malaki, Belfast post-punk rockers Enola Gay, and folk-rock singer-songwriter Madison Cunningham.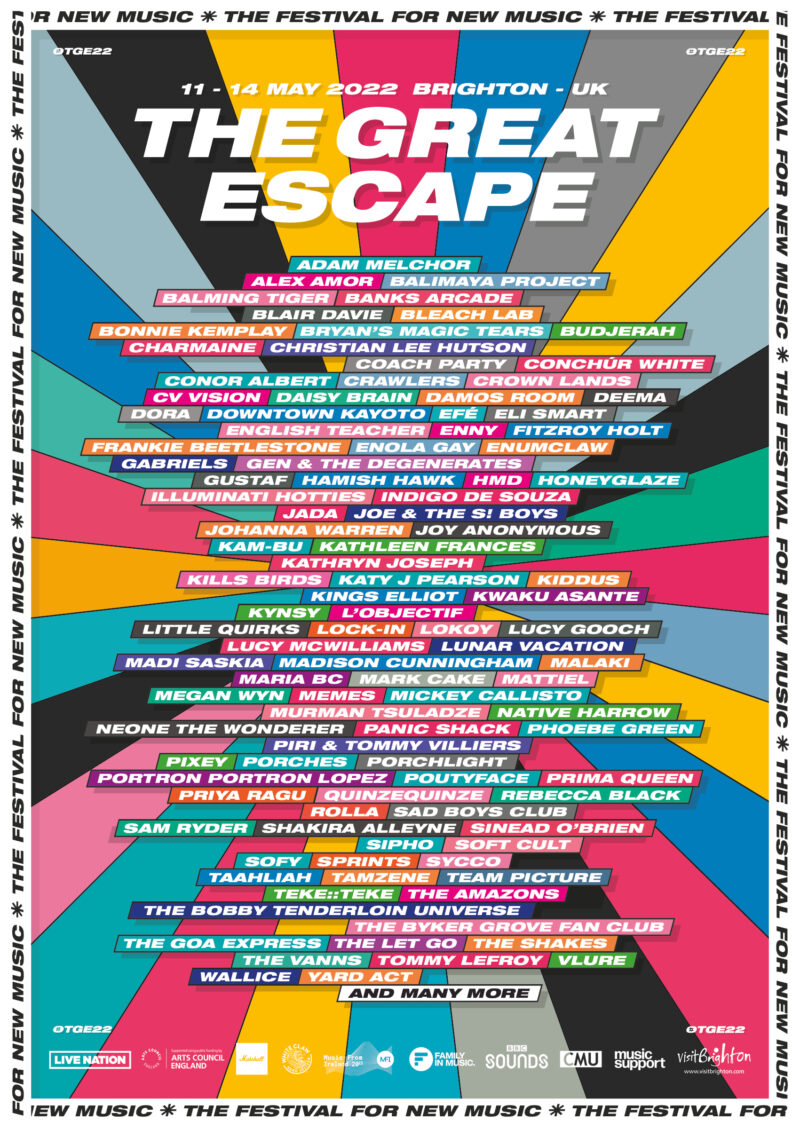 Additionally, The Great Escape today also announces the highly anticipated return of The Road To The Great Escape, the live music showcase in Glasgow and Dublin in the days leading up The Great Escape new music festival and conference in Brighton. Kicking off in Glasgow on 6-7 May, then travelling to Dublin on 9-10 May, The Road To The Great Escape will be bringing some of TGE 2022's most exciting new talent to Scotland and Ireland, with artists appearing at both locations including Dublin singer-songwriter Abi Coulibaly, South London producer and multi-instrumentalist Conor Albert, Scottish alt-pop lyricist Dylan Fraser, Hawaiian tropical soul artist Eli Smart, Leeds alt-rock four-piece English Teacher, Sheffield bedroom pop talent Frankie Beetlestone, South London trio Honeyglaze, Tamil-Swiss R&B musician Priya Ragu, Australian indie pop singer-songwriter Sycco, and Los Angeles indie-pop artist Wallice.
Glasgow's The Garage, King Tuts, G2, and The Garage's Attic Bar will also exclusively welcome Scottish rising soul singer Brooke Combe, the spiritually explorative Birmingham artist Sipho, and upcoming artists including Swim School, Bonnie Kemplay, Vlure, Taahliah and Alex Amor to the line-up, whilst Dublin's Whelan's, Workman's Club, Grand Social, and the Academy 2 will see Dublin-born singer-songwriter Lucy McWilliams and collaborator rapper Malaki exclusively perform alongside acts including Kynsy, Sainte, Seb, Sprints and The Clockworks. Tickets on sale here.
Making its highly anticipated return to the festival calendar following a two-year hiatus, The Great Escape is firmly established and renowned as being the festival for new music, and will be announcing further artists on the line-up, plus additional information on the music industry led TGE conference soon.