Truck Festival has ramped up the anticipation for its 25th Anniversary event by announcing a slew of more new names who will all be appearing at the Oxfordshire festival this July. Continuing to break boundaries by fusing heavyweight acts of the modern indie, rock and alternative scenes with new and exciting upstarts, this second line-up announcement is spearheaded by Sea Girls, Jaws, The Murder Capital and Cassia.
Elsewhere on the bill Noisy, Crawlers, The Hara, Folly Group, Courting, Grandmas House, Deep Tan, Sofy and Jacquard Looms will all appear over the weekend of 22nd – 24th July in the Oxfordshire countryside. Cementing the generational rite of passage weekend of hijinks that Truck has become renowned for, festival-goers are encouraged to act fast if they don't want to miss out with 90% of tickets for the event already snapped up! All of the acts will be joining previously announced headliners Sam Fender, Kasabian, Bombay Bicycle Club and The Kooks, with a special Thursday night headline performance from Blossoms and a whole host more.
Fresh from selling out Brixton Academy on their last UK tour, Sea Girls are seasoned professionals when it comes to cultivating good vibes, and that is exactly what we can expect from the indie four-piece when they play Hill Farm later this year. Returning for what is sure to be a highlight of the weekend for many, the appearance will follow shortly after the release of their second album 'Homesick', which promises to overflow with mammoth riffs and momentous sing-a-longs if singles 'Sick' and 'Again Again' are anything to go by.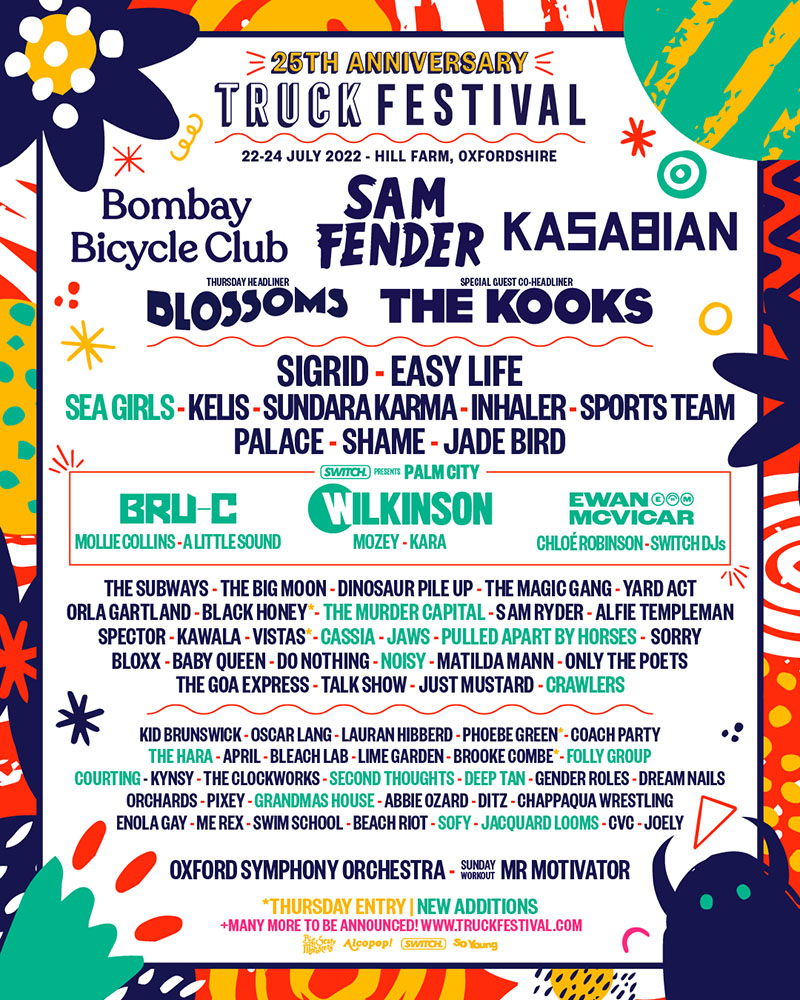 Synonymous for being a voyage of new music discovery, up and coming talent has always been a mainstay of the Truck Festival ethos, and 2022 is no different with rave culture-inspired trio NOISY, rock fusion outfit from the North West Crawlers, viral genre fluid three-piece The Hara and East London alternative collective Folly Group all joining the bulging line-up.
Back once again for 2022 Truck Festival continue their collaboration with local promoter Switch with the famous Switch Presents Palm City returning to the Market Stage and offering that fix of electronic music to run late into the night! With festival-favourite Wilkinson, Bru-C, Ewan McVicar, Chloe Robinson, Mollie Collins, A Little Sound, Mozet, Kara and Switch DJs all ringing through the night – there's no other way to keep the party going than with Switch and Palm City.
It concludes another palpable announcement from the UK's leading new alternative music gathering who stress that music fans must act now if they don't want to miss out on a slice of the action, with 90% of tickets for the popular event already sold out.
Perfect for all ages, it's a moment once a year to gather within a like-minded community in love with the experience of being together for one special weekend. To catch your next favourite artist revel in their finest gig to date before jumping into a ridiculous time at the Paint Party. To witness a huge headline moment with your friends before partying into the night. It all comes to life at your favourite artists' favourite festival. Only at Truck.
With demand incredibly high from festival goers carrying over festival tickets from the past two years, a limited number of Truck 2022 tickets remain. Weekend Tickets are on sale now, starting from £140, with fans encouraged to snap up tickets ASAP to avoid disappointment.
Tickets are available now at:
https://truckfestival.com/