Photo Copyright © Carla Speight
It's the simple things in life that make Sarah Millican happy, typical of any 'working class lass'. Wether that be a fancy notebook, a 'nice brew' and a biscuit or enjoying time in her garden watching the animals that visit. Growing up in South Shields, during the miners strikes have probably attributed to that. Sarah recalls those days fondly. Receiving "sad hugs from dinner ladies", seconds of school dinners, a holiday without her sister and she wasn't bullied for having school dinners.
Bullying is something Sarah was subjected to throughout her school life. "Dad told me that your school days were the best days of your life. That used to terrify me". Given that there is a whole chapter dedicated to things she was bullied for, no one can blame her. Yet despite that chapter being based on the worst moments of her school days; she still managed to find humour. In true Sarah Millican style she ends that chapter with "stop crying, grab a biscuit. The next chapter is more fun". She wasn't wrong. The next chapter is based on "good things that happened at school".  From fond memories of teachers, to extreme declarations of love. This is definitely heart warming chapter. It's both funny and relatable, to anyone who looks back, in an honest way, at their school days.
Beyond school Sarah thrived in the world of work, from a young age the 'work for what you want' mentality was instilled in her as a young girl by her parents. Sarah addresses that university was never really an option for her as there wasn't much "spare cash" and her dad was already working seven days a week, fifty weeks a year. With that in mind she got her first job at aged sixteen in WHSmiths in South Shields,  she worked there for four years.
Every job Sarah has done has involved helping people, working as an assistant in WHSmiths, customer service in the Virgin Cinema in Boldon Colliery (which gave her opportunity and encouraged her to become a film reviewer for the local paper), an advisor in the job centre, in an audiobook workshop, back to the job centre and a few others besides. Now of course her job as a stand up comedian is also turned to useful information. How to deal with chronic attacks of IBS, marriage, life and anything else that amuses Sarah and her audience, most of the time you can draw tips and tricks from her experiences, turned jokes, much like this book.
By the age of twenty nine Sarah went through a divorce. It is now well documented that the unnamed 'husband number one' left her devastated in Frankie and Bennie's. Just after meeting with a councillor, who told them that their relationship was beyond help; came a revelation of food choices and the decision that it was over. Despite being descriptive and even humorous about that time, it is clear that this still impacts Sarah. The details are discussed, even her feelings 'in the moment', but this chapter's distinctive 'matter of fact' style emphasises that it is far from a joking matter. It leaves you with a real insight into who she is, beyond the humour.
At her lowest point Sarah found herself at a comedy show 'I sat  alone in a crowd of excited comedy fans. No one knew how my insides hurt… And I  laughed. Of course I did. It was Linda Smith, the first female comic I'd ever seen live. I walked out and my life was just as shit as when I went in, but I'd had a breather, a release, a bloody good laugh.' This is something Sarah proficiently does now, I'm sure, for other women in similar situations, myself being one of them. After moving back in with her parents Sarah wanted to fill her life with something new. Thankfully she signed up for a performance course and found that she could make the group laugh. Driving her to continue down the comedy path and lead her to where she is now.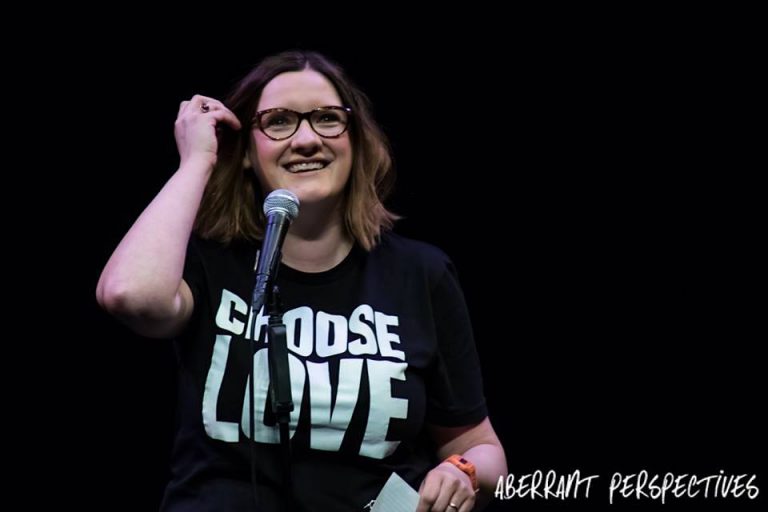 During the earlier days of her twelve years in comedy Sarah, met 'Now That's What I call Husbands 2', aka Gary Delaney. It is clear when Sarah writes about Gary that he is the love of her life. Each and every reference, even the 'typical wife' type moans, are full of love and adoration. They are soulmates, two best friends that could have been written about in a romantic comedy. It is clear Sarah is besotted with Gary and vice versa. Right from the beginning, when Gary used to drive Sarah to and from gigs, the stories and anecdotal references Sarah makes about Gary are simply lovely to read, each one makes you smile.
Of course there's a whole chapter dedicated to "How to be a Comedian". Full of practical and helpful tips that Sarah has picked during her twelve years in the business. From simply being nice to people around you, to work hard and it will pay off. This is definitely a chapter to read for all up and coming comedians, or those considering becoming a comedian. Drawing on her experience in various shows and scenarios Sarah gives honest and useful information throughout this chapter. Including the infamous "Millican's Law".
Positivity is something Sarah seems to find naturally, even in her darkest moments in life. Counselling is where she goes to get her "brain checked over" just like you would with your car. At least that's how Sarah see's it. This candid chapter is very open about why she started, and still continues to go to counselling, she is also very honest in the tips for this section. "I am not a counsellor. But if you think it might help you, give it a go. For others, medication is the key. Try things until something works. There is help out there. And love to you
There is a chapter called "Sometimes I Hate myself". Focusing on Sarah's own body confidence and general self confidence. Sarah is very honest about how she views herself, how others view her and how the press regularly comment on what she looks like. Not one to be totally defeated, Sarah confesses that she only works with photographers and makeup artists that she knows and trusts. Knowing the images will be "online for all eternity" she uses these methods to prevent 'potential disasters' giving the press and public (via social media) an excuse to negatively comment further.
"I have been described as homely, sturdy, dumpy. Why is this Relevant?" Sarah notes "The public in a comedy audience don't care what you're wearing" comedians should be judged on their ability to make you laugh, not judged on what they are wearing. The idea that women's magazines dictate what you should look like, what you should be wearing etc. "I will not run my life based on a simplified, limited idea of what a woman is. I've never had a pedicure, I don't wear high heels, I don't know what shape I am. I buy whatever shampoo is on special offer and I don't care what size boobs are in fashion right now." Quite right too.
This view on life drove Sarah to join forces with Mickey Noonan and Kiri Pritchard-McLean to create the "no bullshit women's magazine" Standard Issue. There is a whole chapter dedicated to how it came to be and how successful it has become, despite the lack of funds forcing it to become a wonderful podcast.
Throughout the book you get a deeper sense of who Sarah is. Every chapter gives you a smile and helpful advice. It has some lovely photographs too, not the usual 'professional only types', there are lots of personal photographs from various stages of her life. There's also a cake recipe that you have to try. Sarah Millican's How to be Champion is funny, sweet, heartwarming and helpful, and I highly recommend. Give that lady a banana.
Sarah is currently on tour, her "Control Enthusiast" tour is travelling all over the UK. You can find out more information, buy tickets and you can also buy "How to be Champion" on her website. www.sarahmillican.co.uk