Review by Gillian Potter-Merrigan
You forget how big The Four Seasons were.  How many hits they had.  How they were the soundtrack to an American youth who went to Vietnam.  Yet here they all are at The Palace Theatre, Manchester in all their foot stomping, singing along, and feel good nostalgia factor glory.  It is no surprise that Jersey Boys, winner of an Olivier and 75 international awards and counting is now in its second year of the current UK tour and over 10 years since it first appeared in the West End.  Still selling and still getting standing ovations; it takes some special kind of magic to do that.
Jersey Boys tells the story of the rise from New Jersey, the tough outlands of New York, of four likely lads with a dream; we also get a young Joe Pesci thrown in, no extra charge.  It's a tale of ups and down, the breaks and the door slams that saw this group claw their way up to the most musically important band of their era. 
There are so many songs in here….Sherry, Rag Doll, Big Girls Don't Cry and Working My Way Back to You alongside the ones that they originally sang but became massive hits for other artists such as The Sun Ain't Gonna Shine which became the signature tune of The Walker Brothers only a few years later.  Sometimes musicals teeter on becoming merely a jukebox but not this one.  The dramatic scenes add depth as well as background and without them we wouldn't really understand the drive to get out of their lives that this group of young men had. 
Tommy DeVito (played by Peter Nash), alternating between being in prison or a band has a dream to make money.  All he needs is the spark and spots it in Frankie Valli (Michael Watson), much younger but the perfect voice.  Along with Nick Massi (Lewis Griffiths), the quiet one who does the harmonies and who constantly thinks about forming his own band, they try repeatedly to make it big but nothing happens until courtesy of Joe Pesci they are introduced to Bob Gaudio (Declan Egan), teen writer of Short Shorts by The Royal Teens.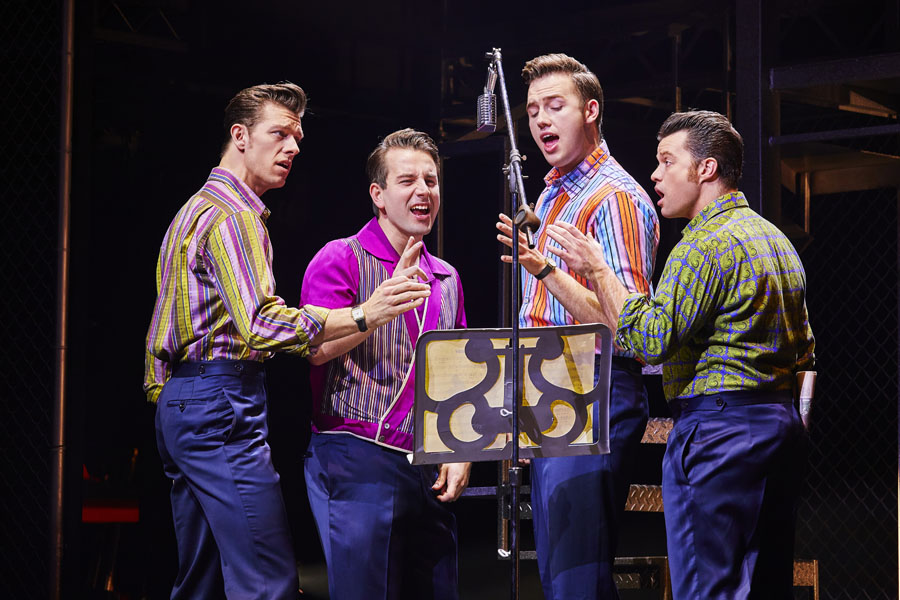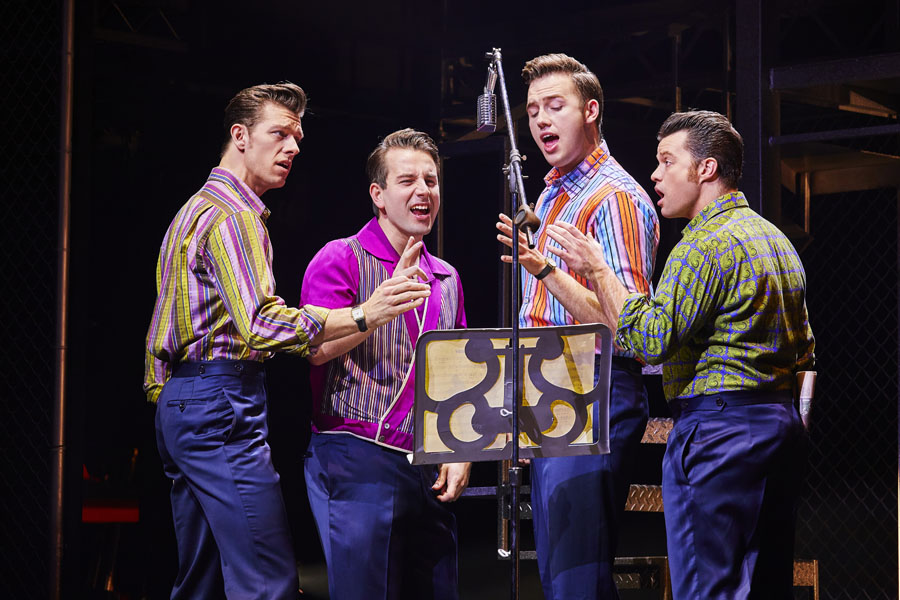 Then music history starts.  Suddenly everything comes together and the band embark on their own journey through the four seasons; cleverly the musical splits the action into four parts spring, summer, autumn and winter and so we see the band rise, their mega stardom, their problems until eventually the band falls apart.
What is remarkable is the way in which the four main characters work together and yet equally hold their own.  It's hard to say which one of them is the "star" when they are together on stage but the voice of Michael Watson is a joy to hear; the extended applause which stopped the show when he sung the hit nobody wanted to hear You're Just too Good to be True is truly heartfelt.  He has a presence that you cannot take your eyes off.  That their characters can all go from highs to lows in the space of a few minutes and moreover they are all believable is a pleasure to watch. 
We see the anger in Nick at Tommy, we see the tension between Bob and Tommy and we see the heartbreak in Frankie over his failed marriages and lost children.  Special mention must also go to Joel Elferink as legendary record producer Bob Crewe and James Alexander Gibbs as Joe Pesci.  Both hovering between central and peripheral characters but making a considerable impact when they are on www.
Speaking of stage the staging is very well done.  Particularly impressive is how the portrayal of The Four Seasons appearing in a television studio complete with cameras was handled with images broadcast to a big screen and also the monochrome finale.   There was also a moveable drummer and kit which roamed the stage like a musical dalek and the clever use of stairs and the back walkway give not only a sense of movement to the whole stage but also double up as sets in their own right. 
Above all though this production ticks all the boxes.  Amazing music delivered superbly, great cast – both main and ensemble –  and you will leave the theatre singing.  Will you want to see it again?  Form an orderly queue at the box office please…..