Bank Holiday weekend is here and here are our top international picks for the weeks.
1. Var release 'Live At Orgelsmidjan'
Iceland's VAR is debuting a new 4-song session on Audiotree. The performance consists of the tracks featured on their recent 'Live at Orgelsmidjan' EP, (studio versions of which appear on the band's critically acclaimed 2020 LP 'The Never-Ending Year.') and was filmed at Orgelsmidjan, Iceland's only pipe organ workshop, which also serves as the band's practice space. Stream the session HERE.
Audiotree Session Tracklist:
1. By The Ocean
2. Where To Find You
3. Moments
4. Highlands
Stream the 'Live at Orgelsmidjan' EP here: https://orcd.co/varlive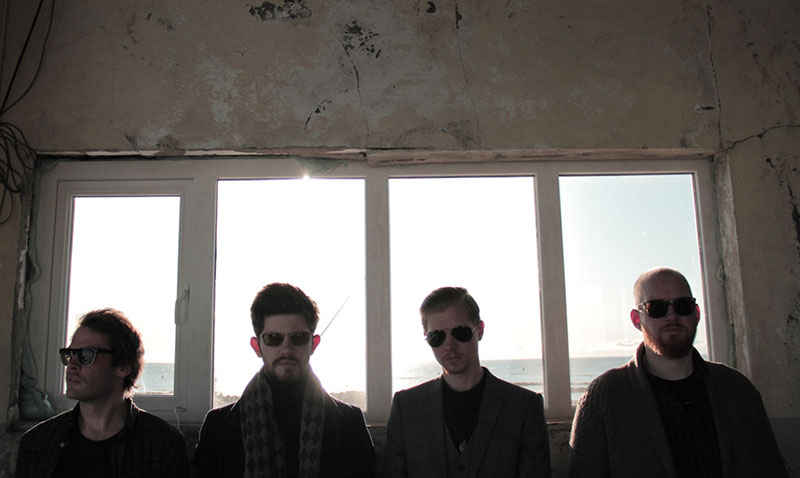 2. Louise Terry releases new single 'Yuu'
Castlemaine-via-Melbourne musician Louise Terry has been traversing the vast electro and experimental art-pop expanse long before the inception of her near-namesake solo moniker Louise Terra began. Known for her involvement with such Melbourne indie outfits as Sugar Fed Leopards, Sawtooth, Brite Fight and Flying Scribble, Louise Terra has trickled out a string of singles and multimedia collaborations to her name since 2016, most notably with film-maker Rachel Feery in the production of a virtual-reality music video for her single, 'Nature Calling' in 2019. Now, the ever-evolving songwriter and producer is excited to soon deliver her anticipated debut EP, Follow the Moon Into The Ocean on Wednesday 14 April and reveal a third and final tease from the collection with her new single and accompanying video, 'Yuu'.
3. Cannon return with new single 'Light In The Fog'
Beloved noughties indie rock outfit Cannon return with their first single of the year, 'Light In The Fog' lifted from their anticipated debut album Connexion. Following on from last year's long-awaited track and instant fan favourite 'Enemy', the Melbourne three-piece are thrilled to share this second taste of Connexion and reveal that the debut LP will finally be here Friday 4 June via Quixotic Records.
Having nervously decided to rehearse as an overdue excuse to come together over a few drinks, Cannon reconnected after a long stint of pursuing other projects and are excited to share the undeniably ripe fruits of their labour with their debut album Connexion. Reminiscent of T-Rex, hinting at early Kasabian and Primal Scream, but blasting like Ty Segall, Cannon is a collection of guitars, noise and subtle 80s synth, connected by philosophical songs about anxiety, Absurdism, the fine line between survival and self-destruction, and an indignant, yet tranquilised, social malaise. Out today, Cannon's second lifted single 'Light In The Fog' leaves its predecessor's anthemic pub-rock choruses for a cruisey earworm of distortions.
4.Illumination Road Debut Searing New Single "The Modern World"
From the quiet mountains of the California high-desert, this 4-piece assembly of artists known as Illumination Road is indeed, a rock band but also a collective of successful, dynamic creatives with their very own production world on a 140 acre ranch in historic Pioneertown.
Consisting of established songwriters, producers, multi-instrumentalists, filmmakers and engineers, the group is a new look at the modern way "bands" can create and exist. With their own production company, recording studio, record label, endless natural film sets on site and incredibly original talent they're able to produce endless creative content from the comforts of 'The Ranch'.
Lead vocalist, songwriter and guitarist, Chris Ayden combines the love of classic artists like The Beatles, Bob Dylan and Bob Marley with modern characteristics all his own. His truly soulful guitar playing and vocal style lends itself to emotional blues but with the aggression of new rock.
5. Jordan Suaste shares 'If The World Ended Tonight'
Jordan Suaste shares the video for "If The World Ended Tonight (Stripped)" – a stark and stunning rendition of his latest single which he contributed to To All The Boys: Always And Forever (Music From The Netflix Film). The endearingly intimate visual marks the 19-year-old artist's first official performance of the song, which is fast approaching 2 million total global streams.
Filmed in his home state of Utah, "If The World Ended Tonight (Stripped)" finds Suaste cozied up in a vintage throne-like chair in the center of a desolate room, with musician/pianist Jake Ostler seated at his keyboard several feet away. In a departure from the sprawling arrangement of the original track — a beautifully heartfelt piece built on ethereal textures, lush string work, and hypnotic vocal layering — Suaste's deeply expressive voice is accompanied only by Ostler's delicate playing. The result is undeniable proof of Suaste's ability to captivate with even the most subtle performance, showcasing the tremendous warmth and graceful vocal command he's previously brought to his DIY-produced hits "Hookup Culture,"  "Patience" and "Body" (Suaste's breakthrough single, now approaching 100 million combined global streams).
The first new music from Suaste since that trio of songs (all released in 2020), "If The World Ended Tonight" has racked up more than 2 million total video streams to date. In addition to landing on a number of highly coveted Spotify playlists (such as New Music Friday, Fresh & Chill, and Chill Pop), the track has appeared on several Apple Music playlists (including Relationship Goals, New Music Daily, and As Heard on TV). Hailed by NYLON as a "sweeping and romantic ballad," the heart-on-sleeve song unfolds as a declaration of love and hope in the face of uncertainty.
6. Yndling releases debut track 'Childish Fear'
Yndling is the dream-pop project of Norwegian artist Silje Espevik. This musical endeavour is the result of wanting to take complete creative control over her music. Through delicate soundscapes and oscillating synths, Yndling invites listeners into her own world, offering a place of escapism and resonance through her lyricism.
Her debut single "Childish Fear" is composed of a hushed, muffled bassline, beatific drums, flows of shimmering synths and hypnotic, celestial clouds of production, creating an engrossing paradise of sound and a melancholy atmosphere. Produced by Adrian Einestor Sandberg, the track drips in intimacy creating a stunning contrast to the story behind the tune which entails her fear of intimacy. Yndling divulges, "The song is about that stage in a relationship where there isn't really that much new and exciting to discover about each other, and capture the fear that I might not be enough once the shimmering glow of first expressions fade."
The dream-pop artist has an ability to create magical, dreamy soundscapes that are haunting and emotive, originating a fresh new sound and giving insight to an array of mixed emotions allowing listeners to have a raw view of her heart. "Childish Fear" gradually develops a thicker texture resulting in a full bloom of sound. The vocals are tender and ethereal, the backing vocals are almost unrecognisable as a voice floating throughout the track creating a wash of a dazy utopia to indulge in. Yndling shares, "I wanted to communicate a mood or a feeling with the song that evolves and becomes more consuming as the track unfolds."

7.  Olivia Morreale releases 'Parasomnia'
Indie-pop artist & producer Olivia Morreale reveals the official music video for her new single "PARASOMNIA," the second single from her forthcoming EP 'SPACE DREAMS.'
A dreamy wonderland of gauzy synths, infectious bass and intricately layered vocal chops, "PARASOMNIA" is a musing on the way in which subconscious thoughts and desires are unlocked through dreams. For the music video, Olivia worked with director Sammy King to create the perfect encapsulation of what it's like to be inside a dream. The resulting visual in an avant-garde odyssey full of otherworldly characters, vivid hues and surrealist storytelling. The video also stars a variety of local LA creatives, ranging from dancers to fashion designers. "Everyone in the video and involved in the making is also an independent artist or creative," Olivia writes. "We gave them a huge amount of creative liberty and tried to involve everyone in the creative process which I think really made the video."
Los Angeles-based Olivia Morreale kicked off this year with the release of "NO ANSWER" and "PARASOMNIA," two of the new singles from her EP 'SPACE DREAMS,' due out later this year. Growing up in New York, Olivia was captivated by the jazz great like Frank Sinatra, Nat King Cole, and Ella Fitzgerald. Now, melding her jazz background with her immersion in the pop utopia of her new home of Los Angeles, Olivia is creating a hybrid sound all of her own. Inspired by synth-pop, chillwave, jazz, and soul, her music is timeless and refreshing all at once.
In addition to her own releases, Olivia has toured as a background singer for Engelbert Humperdinck and was featured as a star vocalist on Jason "Spicy G" Goldman's Hypnotized EP. Her ethereal, distinctive vocals have been her long standing calling card and her forthcoming EP, SPACE DREAMS, is a chance for her uniquely hypnotic cadence to take centerwww.