One of the most exciting dates in the UK music calendar, Music 4 Mental Health has announced it's final acts and released a limited batch of final tickets, due to phenomenal demand.
The event sees all artists share equal billing with Professor Green, Louis Berry andNothing But Thieves joining Anne-Marie, Olly Murs, Ella Eyre, James Arthur and Ed Sheeran at the Roundhouse.
British rapper Professor Green will be performing tracks from his three studio albums, 'Alive Till I'm Dead', 'At Your Inconvenience' and 'Growing Up In Public'. Professor Green is famed for his incendiary live performances as well as his acclaimed documentaries notably 'Working Class White Men' which aired on Channel 4 as well as BBC shorts on homelessness, poverty and suicide; throughout his career, he has been particularly outspoken about mental health.
Louis Berry sprung to prominence with a host of highly-praised singles and EP's showcasing his tremendous voice and emotionally charged lyrics. Combining rock and roll with elements of soul, there is a unique vibrant energy to his live shows and Berry is one of the most highly-regarded new artists to emerge in the UK in recent years.
Returning to support #IAMWHOLE after appearing as last year's ambassadors areNothing But Thieves. One of the biggest rock acts in the UK, Nothing But Thieves have enjoyed milestone crossover success with their two studio albums, the eponymous self-titled debut and last year's 'Broken Machine' which entered the UK album charts at Number 2.Also joining the Music 4 Mental Health bill is internationally recognised poet Hussain Manawer. Drawing inspiration from the likes of Mike Skinner, J K Rowling and Tupac Shakur, Manawer's unique and expressive poetry has garnered regular airtime on stations such as BBC Radio 1, 1xtra, Radio 4, 5, 6 and Asian Network. Through poetry and campaign work, the Ilford wordsmith challenges the stigma surrounding mental health, previously setting a Guinness World Record for 'World's Largest Mental Health Lesson' making him the perfect personality for the debut Music 4 Mental Health event. His live performances are unforgettable experiences, delighting audiences supporting Ellie Goulding, Oscar winning actress Cher as well as at his own four sold-out shows in London. Manawer has also shared platforms with HRH Meghan Markle, Emma Watson and Prime Minister of Canada, Justin Trudeau.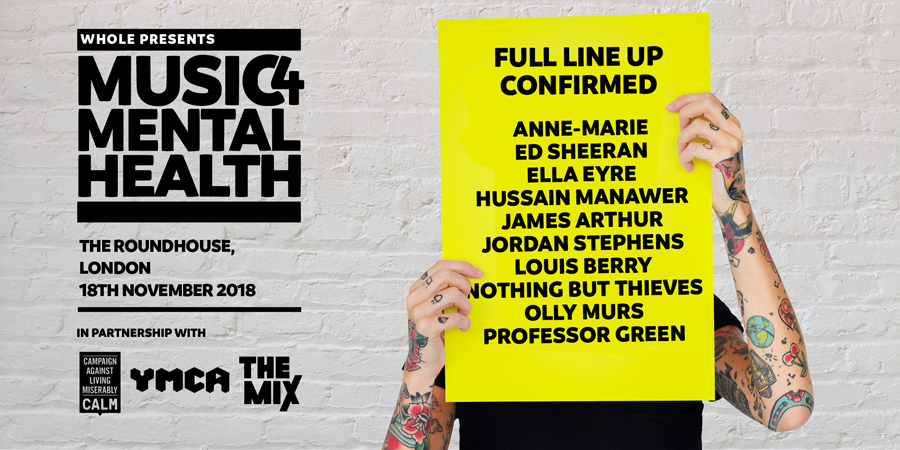 TICKET INFORMATION
A very limited allocation of general tickets and VIP tickets to Music 4 Mental Health will be available fromwww.whole.org.uk/music-4-mental-health/, with more information accessible from the official site also.
Music 4 Mental Health is running a strict anti tout policy for this event – appointing Twickets as the official resale partner for this event. Twickets is a fan-to-fan ticket resale marketplace where the price of tickets is never more than the original face value. Tickets can only be resold via this platform.
Buying or selling tickets on any other platform is strictly prohibited. Transfer of names on tickets is not allowed unless re-sold via Twickets, to ensure full transparency and fair access to tickets.