Greatest Katy Perry Songs of All Time.
American singer-songwriter Katy Perry is a hugely decorated artist holding four Guinness World Records, a Brit Award, five American Music Awards, 14 People's Choice Awards and a Juno Award. 
She is the third most followed person on Twitter, although she did hold the top spot for a while in 2013 and 2015. This helped her to make it onto Time magazine's 25 Most Influential People on the Internet list in 2017, praising her for her work to get close to her fans through social media.  
Her fame and awards are only byproducts though, resulting from the success of her music. Katy Perry's unique style of bouncy, energetic electro pop and pop-rock songs have helped her to sell tens of millions of albums and hundreds of millions of singles. 
Ahead of the release of her new album later this year, here are some of Katy Perry's greatest songs.
I Kissed A Girl
Released in April of 2008, I Kissed a Girl was Katy Perry's debut single. It made a splash, holding the number 1 spot on the Billboard Hot 100 chart for a total of seven weeks. It also performed well throughout Europe and other English speaking countries, including Czechia, Canada, Germany, the United Kingdom, Italy and Ireland. 
The video, which takes inspiration from Moulin Rouge, features several of Perry's friends, including Kesha, who released her first hit single the following year. 
Hot n Cold
Following up from the success of I Kissed A Girl, Perry released Hot n Cold five months later. The video was a lot more elaborate than her debut song, featuring a large wedding, a man in a hot dog costume, a rock concert, a bunch of bridesmaids wielding baseball bats and riding BMX bikes, a break-dancing scene, and a zebra. 
Played at a high tempo, the lyrics addressed the experience Perry had of a former relationship in which her partner would regularly change his mind. 
It didn't make it to the top spot in the US, but it did reach number three on the Billboard Top 100 chart. Outside of her home country, the song performed better, reaching number 1 in Canada, Germany, and Czechia.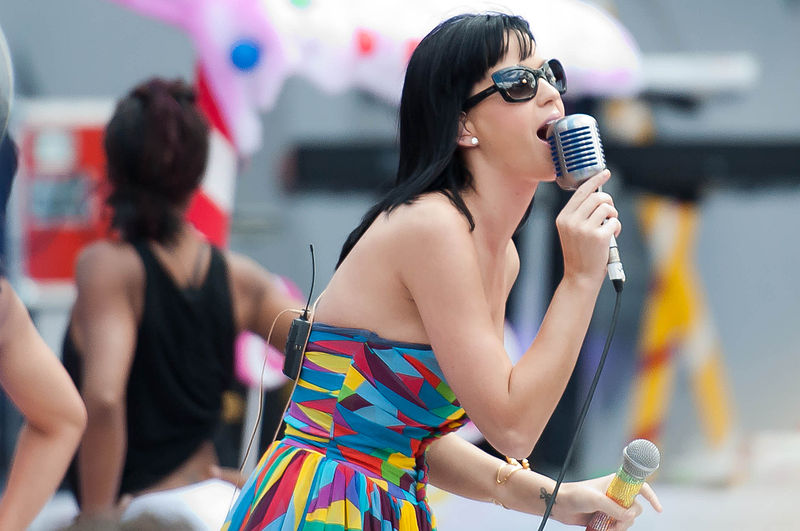 Waking Up in Vegas
This catchy pop-rock anthem was the fourth single taken from One of the Boys, Perry's second album. It managed to reach the top 10 of music charts in eight separate countries, including the US, Canada, Belgium, Slovakia and Ireland. It also made it to number one in Hungary. 
As with all Katy Perry songs, the video is a work of art. It starts with a couple (including Perry) inside a laundrette, playing on a traditional mechanical fruit machine that's doesn't differ much from the shape and colours of many modern online slot games. After winning, they head to Las Vegas where they get a large hotel suite and hit the casino to play games like blackjack.
Teenage Dream
Sharing the title of her third studio album, Teenage Dream was released in July 2010. The video features Perry and her friends taking a road trip in a convertible before partying at a beach and a motel.  
More memorably, she performed the song during the Halftime Show of the 2015 Super Bowl where "Left Shark", one of her backing dancers, stole the show with his energetic moves. 
Like other songs, Teenage Dream contains catchy riffs that stick in your head, helping it reach number one in the Billboard Hot 100, as well as in several other countries. 
Firework
Firework followed Teenage Dream and was released in October 2010. The song's lyrics are about self-empowerment, using the metaphor of a bright and colourful firework to talk about a person's value.
The song has become a bit of a cliche for pyrotechnicians, with many using it as the backing track for their displays. It's perhaps no surprise though as Firework became the fifth most played single on American radio stations during 2011. It also became Katy Perry's fourth US chart-topping song, sitting in the top spot for four weeks. 
Out of the US, Firework also reached number 1 in Canada and number three in the UK and Australia.