BalletBoyz celebrate 20 years and return in Spring 2020 with an all-new, live dance show Deluxe which fuses beautiful dance with original music in the company's unique and unmistakable style, including collaborations from some of the world's most inventive and thought-provoking choreographers and composers. Deluxe will embark on a nationwide UK tour from March to May, including three shows at London's Sadler's Wells between 25 and 27 March. Deluxe is a co-production with Sadler's Wells.
Deluxe will see Shanghai-based dancer and choreographer Xie Xin (TAO Dance Theatre, Sidi Larbi Cherkaoui's Eastman) make her UK debut choreographing a new piece for BalletBoyz set to an original score by composer Jiang Shaofeng, whilst Maxine Doyle (Punchdrunk) will present work to live jazz music by composer Cassie Kinoshi, of the Mercury Prize-nominated SEED Ensemble.
Over the last 20 years BalletBoyz has made 38 pieces of new work for the stage, won 13 international awards, and collaborated with 25 choreographers, ranging from some of the world's finest and most established to emerging and unknown choreographers including Christopher Wheeldon, Akram Khan, Kristen McNally, Matthew Bourne and Liv Lorent to name a few.
BalletBoyz continues to be celebrated across four continents by audiences and critics alike; the company has performed their work more than 400 times around the UK and in 13 countries across the world, with over 350,000 people having seen one of their productions over the last 20 years. Many people have also attended their regular dance workshops and classes for both children and adults, including specialised classes for people with learning disabilities and Parkinson's, held at their studios in Kingston.
The current BalletBoyz Company includes Joseph Barton, Benjamin Knapper, Harry Price, Liam Riddick, Matthew Sandiford and Will Thompson plus apprentice Dan Baines.
BalletBoyz Artistic Directors Michael Nunn and William Trevitt said:
"Deluxe is going to be a night of entertaining and thought-provoking theatre that's been 20 years in the making. The beauty of our job has always been about finding and pursuing extraordinary talent and sharing that with as many people as we can. It's that simple."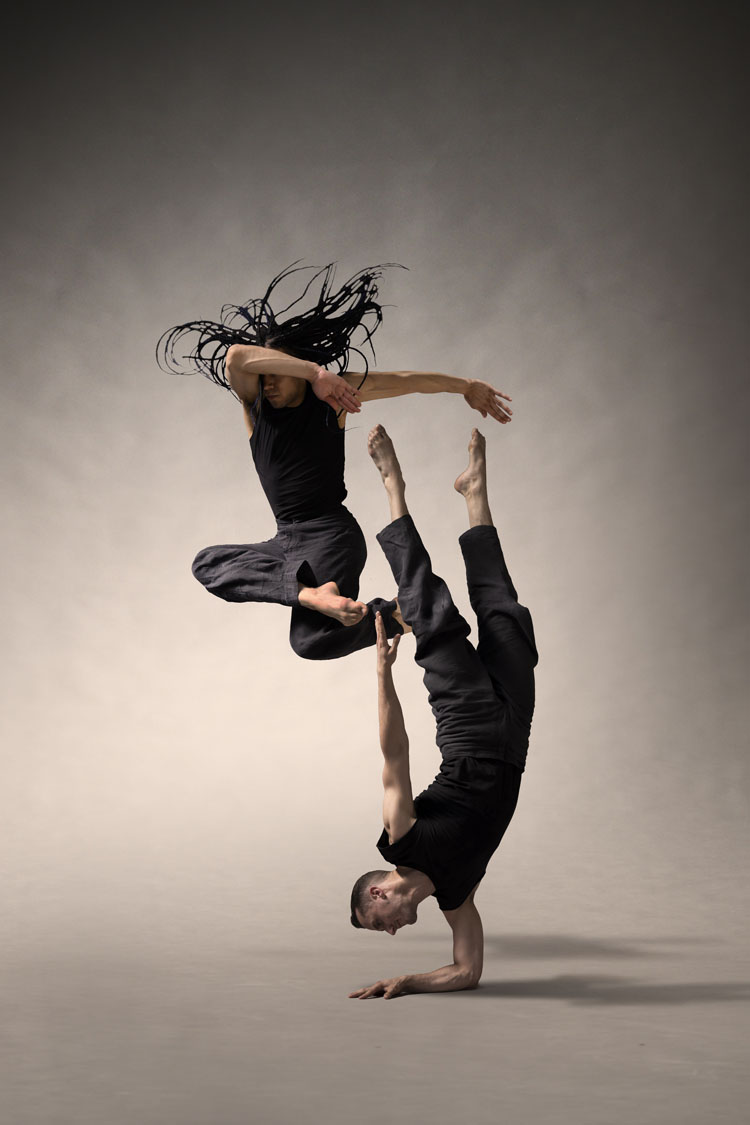 Maxine Doyle is an independent choreographer and director. Since 2002 she has been Associate Director and choreographer for Punchdrunk with whom she co-directed the multi-award-winning Sleep No More (London, Boston, New York, Shanghai), The Drowned Man, Faust and Masque of the Red Death to name a few. She has an MA in choreography from the Laban Centre and was Artistic Director of First Person Dance Company from 1996 – 2003 touring works such as Deja Deux, In the Face of a Stranger, Plastic Chill and It's Only a Gameshow. In 2006 she was a Place Prize semi-finalist with Forest. Her work for theatre includes Evening at the Talk House (NT), Electra (Old Vic), The Changeling, Hamlet (Young Vic), The Children's Hour (West End), Timon of Athens (The Globe) and Every Good Boy Deserves Favour (National Theatre). Opera includes Faust (Baden Baden) and The Cunning Little Vixen (Glyndebourne). Maxine is a regular principle artist at Springboard Danse Montreal creating Hubris, Electric Sheep and Miss D. Most recently Maxine has been collaborating on her first feature film Mari.
Xie Xin is the creator and Artistic Director of Xiexin Dance Theatre (XDT) and is an Associate Artist of the Shanghai International Dance Centre Theatre and jury member of the Lotus Prize. In addition to this, she is a guest professor at Shanghai University of Sport and guest choreographer of Hessisches Staatsballett (Wiesbaden) and Shanghai Dance Company. In 2014 Xie Xin set up her own dance company and began her career as an independent artist. Her choreographic works have won numerous awards in China and abroad, including awards from Rome International Dance Competition, the Lotus Prize, the Hannover International Choreography competition, and the Beijing International Ballet and Choreography competition. Her work has been financially supported by the National Art Foundation, CFLAC Foundation and the Young Artists Platform of Dance.
Recently Xie Xin has worked as a dancer for Guangdong Modern Dance Company, Shanghai Jinxing Dance Theater, Beijing Tao Dance Theatre and Beijing Dance LDTX.  In recent years, Xie Xin's work with XDT has been performed at many European and Asian Art Festivals such as Kuopio Dance Festival (Finland), Colours Dance Festival (Germany), Festival Paris L'ete (France), STEPS Dance Festival (Switzerland), Wiesbaden Theatre Performance Season (Germany), Croatian Sprite and Hibernik Dance Festival, Chinese Dance Biennale, and Hong Kong Art Festival. She has participated in art festivals in 30 countries.
"In Xie Xin's works, I have seen a future that I haven't found in the development of contemporary European dance, with extremely sensitive uniqueness" – Jorma Uotinen, Artistic Director of Kuopio Dance Festival
Cassie Kinoshi is a Mercury Award nominated and Ivors Academy Award winning London-based composer, arranger and alto-saxophonist. She is currently working in theatre, film, contemporary dance and both the jazz and classical performance worlds. Cassie is best known for her work with her large ensemble SEED, Afrobeat band KOKOROKO and jazz septet NÉRIJA. Theatre composition credits include:  Top Girls (National Theatre), All The Shit I Can't Say To My Dad, Blue Beneath My Skin (This Is Black, Bunker Theatre), SuperBlackMan (Battersea Arts), Pagans, Exceptional Mercy, Hy Brasil (Old Vic Theatre, Old Vic 12). Awards and nominations include:  Mercury Award Nominee 2019 (Driftglass, SEED Ensemble), Jazz FM Breakthrough Act of the Year Winner 2019, Ivors Academy Award Winner 2018, Best Jazz Composition for Large Ensemble (Afronaut, SEED Ensemble), Parliamentary Jazz Award 2017 for Best Newcomer (Nérija), Jazz FM Breakthrough Act of the Year Nominee 2016 (Nérija), BBC Young Composer of the Year Nominee 2012.
Deluxe will have its first performance at Glasgow Theatre Royal on 1 March and will tour to Darlington Hippodrome, Edinburgh Festival Theatre, Blackpool Grand, Leicester Curve, Dundee Rep, Poole Lighthouse, Worthing Connaught, Sadler's Wells, Exeter Northcott, Richmond Theatre, Yeovil Octagon, Northampton Royal and Derngate, Bradford Alhambra, London artsdepot, Bath Theatre Royal, York Grand Opera House, Portsmouth New Theatre Royal, Cheltenham Everyman, Wycombe Swan, Warwick Arts Centre and New Theatre Oxford with further venues to be announced.
Tickets for Deluxe at Sadler's Wells are available from www.sadlerswells.com and for the tour HERE