Alongside seeing the likes of Ross Noble and Daliso Chaponda live and in the flesh at a comedy venue, people tend to get their comedy fix by watching a selection of comedy movies. Stand up is hard to beat on occasions, but a hilarious sitcom, for example, is a decent alternative for many people. 
Thanks to the emergence of streaming platforms like Netflix, the search for comical value is an easy one due to the extensive selection of titles on offer. These types of services are easy to find and download, they take seconds to fire up, and then from there, users have access to anything from Oscar-level masterpieces to goofy slapstick movies. The fact that these types of movies can be enjoyed on the same smartphone devices people use to hurl abuse at each other on social media or play titles like the Amazing Link Zeus slot game makes accessing comical content a breeze throughout the day. On top of this, comedy is now far more accessible to a range of different audiences. Ultimately, that can only be of benefit to the industry moving forward. 
Netflix is certainly the giant of the streaming world too. From mockumentaries to rom coms to sitcoms, the platform serves up a selection of comedies well worth tucking into after a stressful day at work or in an attempt to silence any annoying children. With that in mind, below is a look at some of the best options right now. 
Shrek 
Speaking of family, Shrek is a great family-friendly movie. You've probably already seen it unless you've been living under a rock for over 20 years, but either way, it's worth sampling with the kids again. I mean, who isn't a fan of the curmudgeonly green ogre (voiced by Mike Myers) and his undying love for a beautiful princess? Shrek is certainly one for the kids, but we adults can have a chuckle along to it also. 
The Big Lebowski 
Now that the kids have been catered for with Shrek, it's time to get back to the content we adults can tuck into alone. The Big Lebowski is certainly one of them, with this 1998 classic being a favourite for so many. With its laidback vibes and nod to some classic movies from the past, this hippy-centric masterpiece is a joy to watch, especially after Jeff Bridges' apartment gets broken into by two hooded men who soil on his beloved carpet. From there, it's fairly hard to put into words what exactly happens, but it involves pornographers, German electro-pop groups, and plenty of hilarious weirdness. 
The Other Guys 
Regarded by many as being Adam McKay's second-best movie behind Anchorman, The Other Guys is a great watch. A buddy cop movie with a twist, Mark Wahlberg and Will Ferrell team up to form an unlikely duo as they fight crime. Featuring The Rock and Samuel L. Jackson also, the movie has an excellent cast too. 
Knocked Up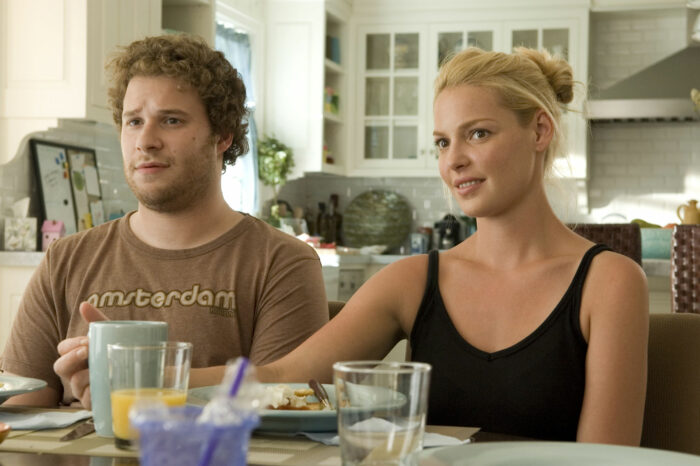 (Image via https://twitter.com/cmattmetric)
Arguably Seth Rogen's breakthrough movie, Knocked Up is a hilarious rom-com romp story featuring Rogen, a chilled-out stoner, who ends up getting pregnant with a TV presenter who is quite demanding. Unable to tolerate some of his weed-fuelled antics, Katherine Heigl's uptight TV presenter is forced to make it work in what is a hilarious watch for any parents. 
Superbad 
Superbad is a truly iconic teen comedy that follows the trials and tribulations of being a youngster trying to appease the opposite sex. Featuring hilarious cops, embarrassing stains, glorious characters like "McLovin", and a whole lot more, Superbad is a joy to sample.