Helping theatre-fans book the best seats
We know that theatre can be pricey. If you want the best view, it's not going to be one of the "cheap seats" and frankly, does anyone particularly want to be sat way up at the back of the Balcony, risking eye-strain and a nosebleed even if it was a (relatively speaking) "cheap seat"?
Imagine if you could see the view from your seat before you booked it – you could then make an informed choice of the best seats for your budget to make sure you got the best possible value. 
SeatPlan.com is a website that allows theatregoers to see the view from thousands of seats at venues across the UK. To fulfil their mission of helping entertainment fans to book the best seats, SeatPlan compile thousands of user-submitted seat-view photos onto interactive seat maps. Essentially, this gives you the chance to look before you book. Each review includes a rating for view, comfort and legroom, providing a full overview of the theatrical experience from that particular seat.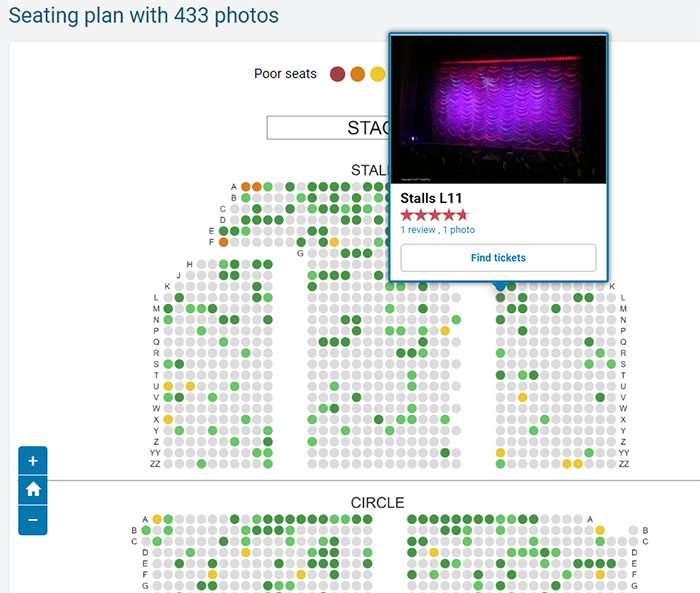 How do I get rewarded?
SeatPlan don't expect users to submit their seat view photos for nothing. For each review you upload, you will earn Rewards Points, which can be saved up and redeemed on theatre vouchers, such as the popular and widely-compatible Theatre Tokens. 
You may already have such photos on your phone right now – quick snaps taken of the stage before the curtain went up at recent theatre-visits. These photos could be earning you Rewards Points right now. The more photos you submit, the more points you will receive, which brings you closer to earning Theatre Tokens and saving money on future theatre visits!
SeatPlan needs Manchester Theatre-fans
SeatPlan currently cover two major Manchester theatres; The Opera House and The Palace Theatre and they need more photos for both venues so they can help more and more theatregoers make and informed choice of where to sit. On top of their interactive seat maps, SeatPlan also offers tickets to shows at these venues for Box Office prices, so you can select the view you want and know that you are getting the best price.
 Whether you are planning a visit to see major upcoming musicals such as Beauty and the Beast or Chicago – or you already have plenty of photos collected at previous outings, you should definitely join the SeatPlan community and be rewarded for adding your pics. By helping SeatPlan to fill their interactive seat maps and sharing your honest opinion of where you were seated, you will be helping thousands of other Manchester theatregoers book the best seats.