Carrie Underwood is better known as a country superstar, but recently she thrilled Guns' N' Roses fans by appearing on stage with Axl Rose.
Underwood has never hidden her love of the band, covering songs such as Sweet Child O' Mine, Paradise City, November Rain and Patience in her concerts. She even told Jimmy Fallon in 2020 that she abandoned her husband immediately after returning from tour so she could go and see Axl and the guys at a gig. "It's hard when you meet your heroes," she said. "You know because I do consider [Axl] to be somebody who taught me how to sing. I was like, 'What if I meet him and he's not everything I want him to be?' But he was, he was super cool and nice."

He was so cool that when she invited the rock star on stage at Stagecoach Festival to help her belt out two of his hits, Sweet Child O' Mine and Paradise City, he accepted. Underwood, sporting one of the band's iconic logo t-shirts, was having the time of her life. Having cited Axl as an idol of hers, it's little surprise she was so happy performing with such an influential band.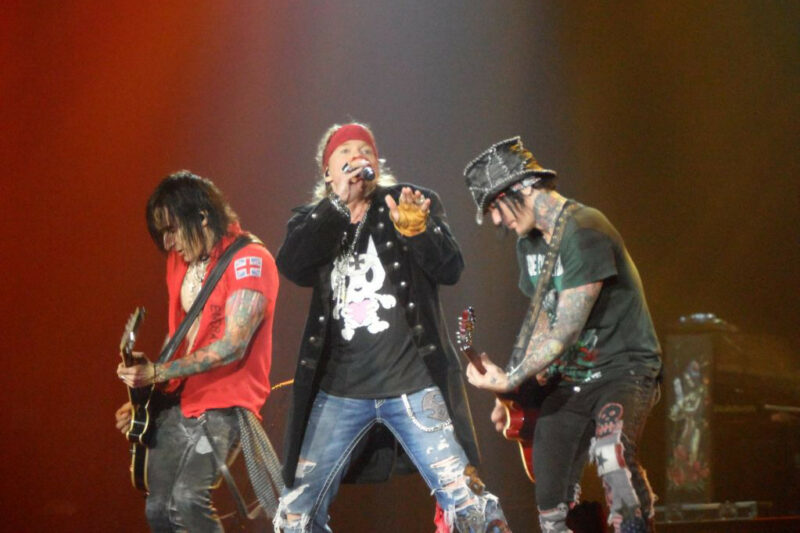 Guns 'N' Roses are an iconic rock band, with their musical influence permeating across all manner of digital media. Their songs have been in films, such as You Could Be Mine in Terminator 2, and they've featured in many video games across the ages, which have helped them reach new legions of fans. GNR Central explain how Paradise City was the lead track for racing game Burnout Paradise, with the thumping guitar being the perfect accompaniment to the frantic racing action. They've even got their own online slot on Foxy Games, simply titled Guns 'N' Roses, which has their tracks as background music and features plenty of the band's imagery. Those same songs have been used for four different Madden NFL games and even played on the 2004 Grand Theft Auto San Andreas radio stations. Even today, you can find the Guns N' Roses Legendary Songs on the Play Store for Android. This exposure comes despite them not having a top ten hit in the UK since Sympathy for the Devil in 1994.

With such significant digital reach, there's little surprise they're still a big draw for stars and fans alike. Whilst Underwood was on stage with her heroes, fans here in the UK will finally see them at the Tottenham Hotspur Stadium in July. They were scheduled to do a date in July 2020, which was expanded to two nights before being postponed due to pandemic restrictions. The rearranged gig in July 2021 was also cancelled, but they're not set for two nights at the start of July before heading to Glasgow for a third UK gig. The rest of the world tour takes in Germany, Italy and Austria, nine nights in Brazil, six in Australia and four in Mexico. Of course, Underwood won't be featuring at those gigs, as the Stagecoach performance was one of those rare collaborations that multi-artist shows such as a festival often throw up.

For those that did witness it, that spine-tingling moment when her band struck up the first bars of Sweet Child O' Mine will live as long in the memory as any video game soundtrack.