From toddlers to teens and everyone in between, Standon Calling promises to be the ultimate fun-packed festival weekend for the young ones this summer. Not just known for hosting a truly eclectic line up of huge headliners, exciting new artists and party-starting DJs, this beloved boutique music & arts extravaganza always goes above and beyond to create a magical experience for the whole family.
Taking place between 21st – 24th July in its stunning Hertfordshire setting, the full family programme is revealed today, and is packed with the best kids entertainment and activities around. Witness the best-selling book & TV series come to life as Horrible Histories explore the crazy characters from Britain's barmy past as part of their Terrible Tudors show, alongside the nation's biggest kids TV comedy double act Dick & Dom battling out behind the decks, whilst the vibrant lycra-clad fitness icon Mr Motivator MBE is on hand to get everyone up on their feet and feeling good.
Enjoy all the Standon staples like the famous Dog Show, Swimming Pool and Costume Parade, with this year's theme of 'Who Let The Toys Out?' running amok around the festival site. Let your little loved ones join the Woodland Tribe to collaborate with others on creative building projects, get up close to the Jurassic creatures with How To Train Your Dinosaur live, dive into a boisterous mix of comedy, clowning and circus skills with The Flying Seagull Project, and dance their hearts away at the Fromage Juniors Kids Disco!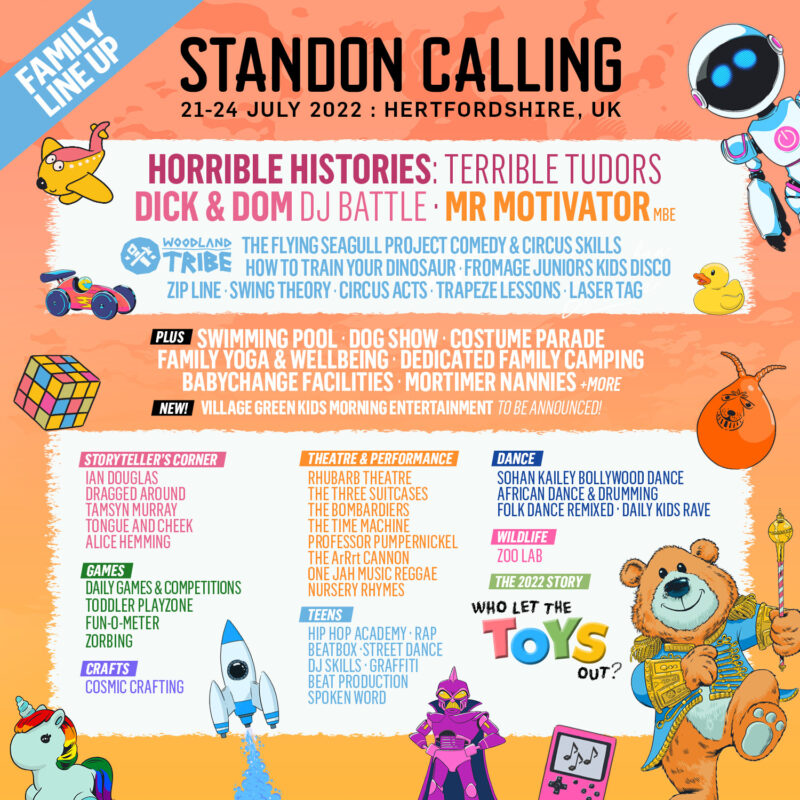 Right across the Standon Calling line up is something for everyone, from big pop moments provided by Anne Marie, Sugababes and Gabrielle to alternative anthems from Primal Scream and Madness, alongside plenty of dance and hip hop delights from Loyle Carner, Example, Annie Mac and Grandmaster Flash to name a few. Similarly every member of the family is well and truly catered for, all the way from the Toddler Playzone to the comprehensive Hip Hop Academy inspiring teens with tutorials on Beatboxing, Street Dance, DJ Skills, Graffiti and more.
Elsewhere discover an almost endless array of engaging activities including a Daily Kids Rave, Laser Tag games, the Zip Line, Zorbing, as well as Swing Theory, Circus Acts, Trapeze Lessons, and Daily Games & Competitions.
Then, when the kids are all worn out from all these high energy hijinks, just take it down a notch by trying your hand at some Cosmic Crafting and come back down to earth with a Family Yoga & Wellbeing session. Call into the Storytellers Corner for a spot of Rhubarb Theatre, Tongue and Cheek poetry workshops and tales from acclaimed local authors and master storytellers Ian Douglas, Tamsyn Murray and Alice Hemming and more.
Rest assured Standon has it all covered with its Dedicated Family Campsite and convenient Babychange Facilities in the kids area, an when the time comes to hand them over to the Mortimer Nannies – who are always ready to take on those childcare needs – head on into the evening and enjoy the food & drink and memorable sets from the likes of Sleaford Mods, Self Esteem, Kojey Radical, Craig David TS5, John Grant, Yard Act, Ezra Furman and more.
TICKETS ARE ON SALE NOW, AVAILABLE HERE
https://standon-calling.com/