Standing as one of the UK's most beloved festivals, Kendal Calling continues to add more unmissable programming to the fields this July. With the recently announced theme of 'Kendal Calling Goes Jurassic', today the festival builds on a phenomenal lineup of music, comedy, arts, food & drink and more with a newly announced collaboration with Extinction Rebellion coming to the festival in 2019, plus a host of new activities added to the Kids Calling line up.
Making a stand across the world, Extinction Rebellion has lead one of the most impactful movements in modern history in pursuit of meaningful action and change to combat climate breakdown as a matter of distinct urgency. Taking action through activism and using peaceful disobedience, it's a movement that has captured the attention of millions – demanding that now is the moment to affect change to challenge the ecological crisis faced by the planet and those species living on it.
In a unique collaboration with Kendal Calling, Extinction Rebellion will head to the fields this July – curating a very special area at the festival with a programme focused on raising awareness around climate change, species extinction and what can be done to make that change. From in-depth talks, workshops and film screenings, to screen printing and yoga sessions, expect it to be an insightful and entertaining area that points to a future we can all get behind. Make a change, and join a movement looking to change the world as Extinction Rebellion comes to Kendal Calling 2019.
A weekend packed full of entertainment suitable for all the family, Kendal Calling is a celebration where all ages, generations and families can combine for an unmissable weekend of memory making. Today, adding to the already dino-mite fancy dress theme of Kendal Calling 'Goes Jurassic', the festival reveals more prehistoric programming!
Little ones can crawl, hop or fly to the Kids Calling area anytime throughout the weekend for arts & crafts, theatre performances and workshops galore! Get creative with the Re-Psych Project and create Ice Age costumes and pasta-saurus pictures in their hands-on sessions, get tots dancing at the daily discos and ancient movement and fire workshops, or if you're feeling more energetic join in with the Triceratoss hoopla, Dino egg and spoon races and more. Plus, don't miss the DINO VILLAGE on Saturday afternoon – get involved in Jurassic-inspired games, face painting, art and crafts, competitions and general silliness, with our host of friendly activity leaders.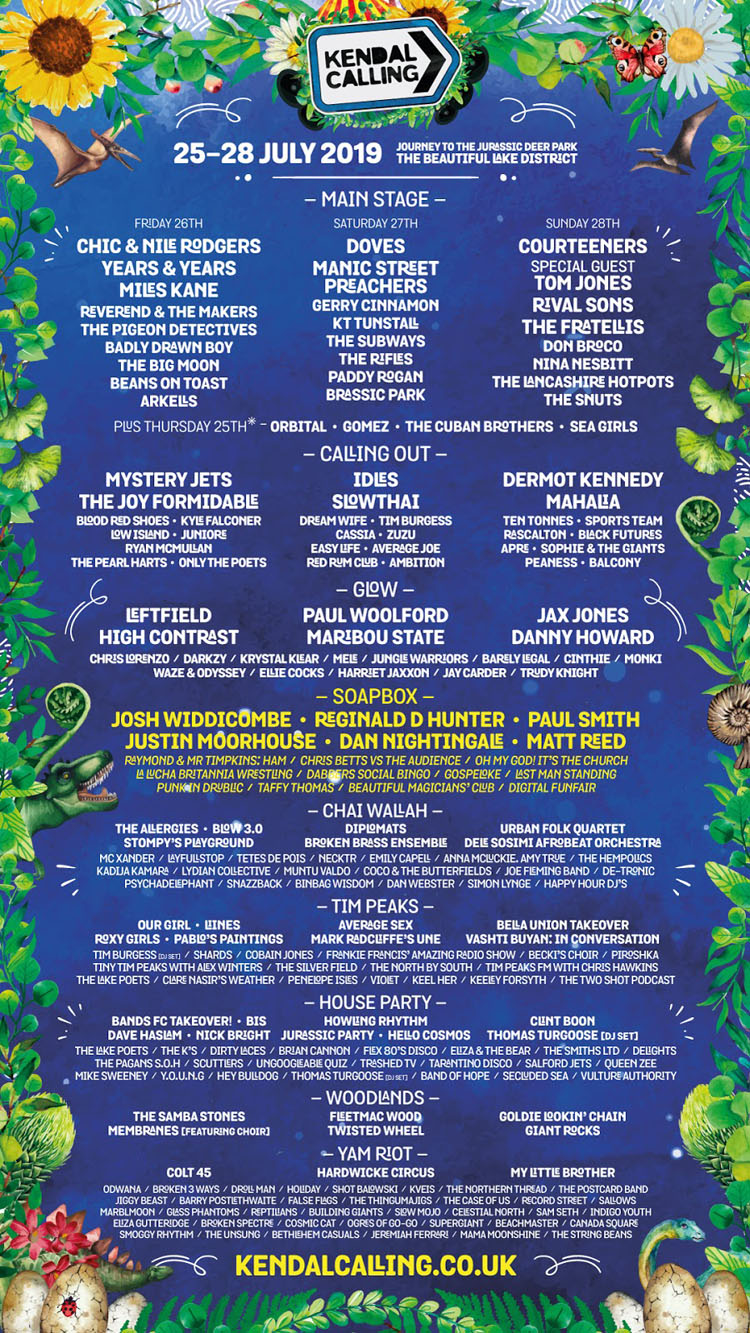 The news around Kids Calling and Extinction Rebellion comes with the reveal of Kendal Calling 2019's official day splits, showcasing four sensational days and nights packed with unrivalled entertainment and performances. With Thursday night kicking off the weekend with Orbital providing a star-studded show alongside Gomez, The Cuban Brothers and Sea Girls – Friday sees the imitable Nile Rodgers & CHIC dazzle with classics alongside pop sensations Years & Years, festival favourites Miles Kane, The Pigeon Detectives and Reverend & The Makers and many more.
Saturday night witnesses the return of Doves, topping a bill that includes Manic Street Preachers, Gerry Cinnamon, IDLES, Slowthai, Maribou State, Dream Wife and The Subways amongst others – before Sunday night rolls into town with what's sure to be an iconic headline set from Courteeners. Joined by Special Guest Tom Jones, Dermot Kennedy, The Fratellis, Jax Jones and more – it ensures that Kendal Calling is once again an unrivalled weekend in the summer festival calendar.
All set in the incredible location of the Lake District's Lowther Deer Park, this innovative, fan-focused, independent festival is renowned for more than just music and visitors will also enjoy four days of arts installations, comedy, cabaret, cinema, magic, gourmet food and real ale all within the confines of what is surely the most beautiful festival site in the UK.
Kendal Calling has firmly established itself as one of the undisputed highlights of the increasingly busy summer calendar, regularly picking up awards including UK Festival Awards' Best Medium Festival in 2016 and Marketing Campaign of The Year in 2018.
Tickets always sell out for the festival well in advance so fans are urged to get their tickets now to avoid disappointment. See you in the fields for an epic Jurassic show of Spielberg-ian proportions!
Follow @KendalCalling and like the festival on Facebook for more info.
FINAL TICKETS ON SALE – DON'T MISS OUT!