On December 7, Coldplay will celebrate their record-breaking A Head Full Of Dreams Tourwith the release of Live In Buenos Aires / Live In São Paulo / A Head Full Of Dreams (Film), on CD, DVD, vinyl and digital.
The Live In Buenos Aires album was recorded on 15 November 2017 – the final night of the A Head Full Of Dreams Tour. The 24 track audio set marks the first time that a Coldplay concert has been released in its entirety.
The accompanying two hour concert film Live In São Paulo was filmed a week earlier on 8 November 2017.
The A Head Full Of Dreams Tour has been confirmed as the third biggest of all time, having played to more than 5.5 million fans across the world.
The combined live album / live concert film release – also known as the Butterfly package – is completed by the new A Head Full Of Dreams documentary film, which charts Coldplay's colourful 20 year history.
In addition, Viva La Vida from Live In Buenos Aires is available to stream/download worldwide from today here,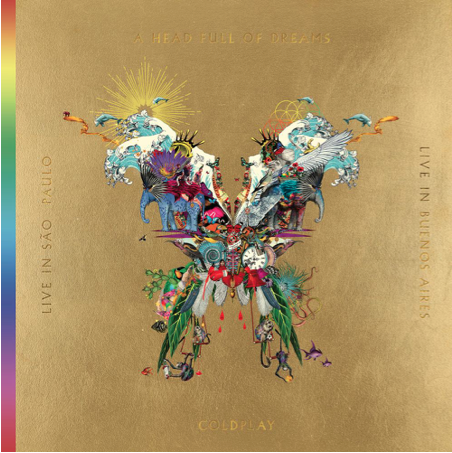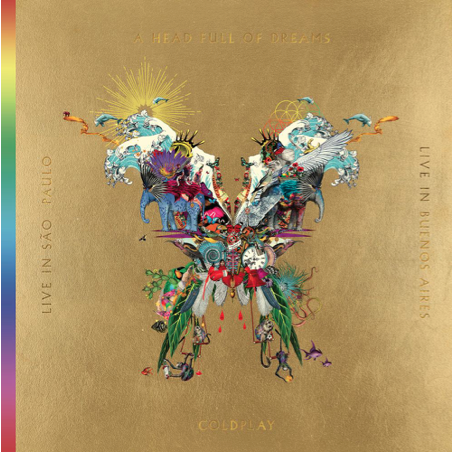 Live In Buenos Aires and Live In São Paulo feature hits and fan favourites from all seven of the band's Number 1 studio albums.
The full Butterfly package is available to pre-order now as a 2 x DVD / 2 x CD set and a 2 x DVD / 3 x gold vinyl collection. A standalone 2 x CD edition of the Live In Buenos Airesalbum is also available.
Digitally, the Live In Buenos Aires album will be available to stream/download from all platforms, with the Live In São Paulo film also available as a longform download.
From November 16, the career-spanning A Head Full Of Dreams film will stream exclusively worldwide on Amazon Prime Video. The film will also be shown, for one night only, in more than 2,000 cinemas in 64 countries globally, on November 14 (more info at coldplay.film).
The film is helmed by Mat Whitecross – director of Supersonic, the acclaimed 2016 Oasis documentary – who met the four friends at college in London, before they'd even formed the band. From Coldplay's very first rehearsal in a cramped student bedroom, Whitecross has been there to capture the music and the relationships on tape.
The artwork for the Butterfly package was created by Icelandic-born artist Kristjana S Williams. The collage features dozens of visual motifs drawn from the band's artwork, videos and history. Fans are currently able to explore the artwork via a magnifying tool at Coldplay.com.