DEF LEPPARD ANNOUNCES UK & EIRE HEADLINE TOUR PLAYING THE SEMINAL "HYSTERIA" ALBUM IN FULL PLUS OTHER SONGS FROM THEIR CATALOGUE THROUGHOUT DECEMBER 2018
On 19th January 2018 around the world, legendary British rock icons Def Leppard debut their full recording catalogue worldwide via https://DefLeppard.lnk.to/Digital. One of the last multi-platinum selling acts to be made available on streaming and download platforms, music fans from all corners of the globe can now enjoy tracks and albums from Def Leppard who have sold more than 100 million albums worldwide to become one of rock's most enduring and influential bands.
Said Joe Elliott, "It is with a mixture of relief & euphoria that we now see our entire catalogue finally getting a digital release. Having embraced every other format with open arms, especially & more recently the re-emergence of vinyl, we're now going to be available to everyone everywhere and honestly, it's as exciting as the original releases were."
Phil Collen adds, "We felt we'd been left out of the digital party, but it's a thrill for us to finally accept the invitation and to be able to say "Yeah, you can stream us, download us and hear us on all digital outlets".
As a cornerstone of rock and roll's history, Def Leppard's substantial career includes numerous hit singles including their first early chart hit "Wasted" — to their radio and MTV staples "Bringin' On The Heartbreak", "Photograph", "Rock of Ages", "Too Late", "Animal", "Armageddon It", "Love Bites", "Rocket" and "Let's Get Rocked." Their ground-breaking multi-platinum albums—including two of the best-selling albums of all time with sales of more than 10 million copies each in the U.S. alone Pyromania and Hysteria, captured some of the group's legendary tracks, bringing together classic Leppard hits such as "Pour Some Sugar on Me", "Hysteria" and "Foolin'."
The group continued their success expanding into the world of film, covers, and new collaborations including "Two Steps Behind" from the film Last Action Hero, "No Matter What", "Waterloo Sunset", and "Nine Lives" with Tim McGraw as well as Def Leppard hits "When Love and Hate Collide", "Slang", "Work It Out", "Promises" and "Now." Finally, all of Def Leppard's awe-inspiring music is available to everyone, around the world from the band's eponymous debut EP through to their most recent album.
Late 2018 will see the band deliver what many UK and Eire fans have been waiting for – the "Hysteria" album performed in full plus other Def Leppard hits across eleven arena dates in December 2018
Rick "Sav" Savage says, "After many requests from fans in the U.K, I'm delighted that we can bring the whole "Hysteria" album to arenas across Britain and Ireland later this year. From 'Women' to 'Love and Affection' plus many other faves thrown in for good measure. Oh, and our old pals Cheap Trick will be there also to help with the celebrations!! We can't wait'.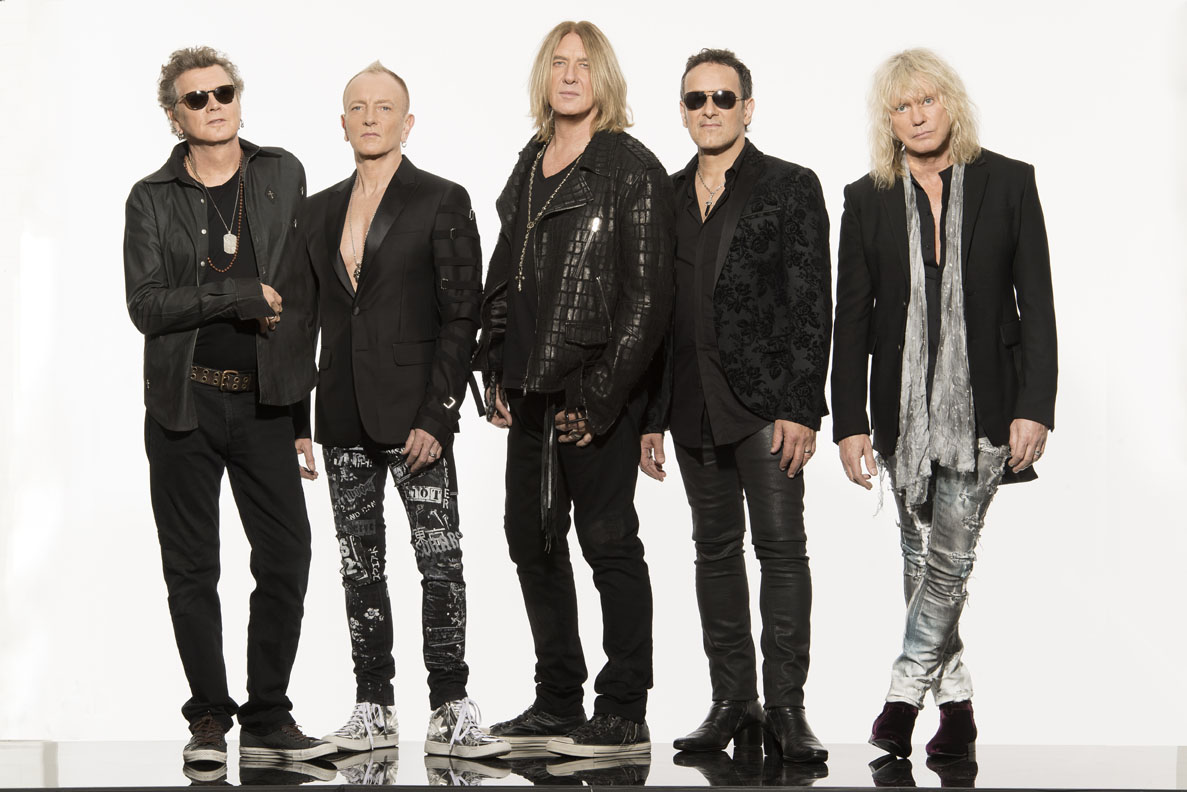 These will be the first Def Leppard UK and Eire tour dates since the sold-out Arena run in late 2015. The band will return to Sheffield Arena for what is sure to be a monumental homecoming show, in addition to their first ever show at The O2, London. 2018 also marks the 35th anniversary of "Hysteria's" predecessor "Pyromania".
The seminal 1987 "Hysteria" album is rightly seen as a landmark recording in the history of rock music. It was the album that saw Def Leppard conquer the world with global hits such as "Animal", "Pour Some Sugar On Me", "Hysteria", "Armageddon It", "Love Bites", "Woman" and "Rocket". The band will deliver "Hysteria" in full alongside other songs from their incredible catalogue. The UK & Eire tour dates are as follows…
Sat 1st December 2018           Dublin, 3 Arena EIRE
Sun 2nd December                  Belfast, The SSE Arena UK
Tues 4th December                 Cardiff, Motorpoint Arena UK
Thurs 6th December                London, The O2 UK
Sat 8th December                   Nottingham, Motorpoint Arena UK
Sun 9th December                   Newcastle, Metro Radio Arena UK
Tues 11th December               Glasgow, The SSE Hydro Arena UK
Wed 12th December               Manchester, Manchester Arena UK
Fri 14th December                  Sheffield, FlyDSA Arena UK
Sat 15th December                 Liverpool, Echo Arena UK
Mon 17th December               Birmingham, Arena Birmingham UK
Supported by Cheap Trick across all dates.
Tickets go on general sale at 9am GMT Friday 26th January 2018 through www.livenation.co.uk
The UK & Eire tour will follow a massive USA co-headlining tour with Journey. Comprised of stadiums and arena venues around the U.S., the 60-city run is set to kick off in Hartford, CT on May 21st and will wrap in Los Angeles, CA on October 6th.
DEF LEPPARD TITLES NOW AVAILABLE ACROSS ALL STREAMING AND DOWNLOAD PLATFORMS INCLUDE:
The Def Leppard EP (1979)
On Through The Night (1980)
High 'N' Dry (1981)
Pyromania (1983)
Hysteria (1987)
Adrenalize (1992)
Retro Active (1993)
Vault (1995)
Slang (1996)
Euphoria (1999)
X (2002)
Yeah! (2006)
Songs From The Sparkle Lounge (2008)
Mirror Ball – Live & More (2011)
Def Leppard (2015)
Def Leppard – Joe Elliott (vocals), Phil Collen (guitar), Rick "Sav" Savage (bass), Vivian Campbell (guitar) and Rick Allen (drums) – continue to be one of the most important forces in rock music. Over the course of their career the band has produced a series of classic ground-breaking albums that set the bar for generations of music fans and artists alike. The group's spectacular live shows and arsenal of hits have become synonymous with their name, leading Def Leppard to be heralded as an institution in both the music and touring industry. The band's most recent self-titled studio album debuted at#1 on Billboard's Top Rock Albums and Top Independent Albums charts. The album also took the #5 spot on Billboard's Top Current Albums and #10 spot on the Top 200, as well as claiming 15 top 10 debuts around the world.
FOLLOW DEF LEPPARD
www.defleppard.com
www.facebook.com/defleppard
www.twitter.com/DefLeppard
www.instagram.com/DefLeppard
www.youtube.com/DefLeppard