Celebrated Montreal rock and roll band The Damn Truth are pleased to announce they will embark on a 13-date UK tour kicking off at the York Grand Opera House on February 10th and finishing at Southampton The 1865 on February 25th, 2022.
In addition to supporting King King on various dates, The Damn Truth headline their own concerts including Leek Foxlowe Arts (Feb 13), Leeds Lending Room (Feb 15), Bristol Exchange (Feb 16), and Southampton The 1865 (Feb 25). Tickets available from www.thegigcartel.com.
The tour follows the recent release of The Damn Truth's third studio album Now or Nowhere released by Spectra Musique/Sony Music. Produced by legendary Grammy Award winning record producer, Bob Rock, the album is available from www.thedamntruth.com.  
If you can't wait until next year to see the band in concert, on Wednesday June 9, 2021 at 8pm ET (1am UK) the Damn Truth will perform a virtual album livestream concert from Montreal. Livestream tickets are available from www.lepointdevente.com/billets/evk210609001
The Damn Truth's latest single, This Is Who We Are Now has taken flight in the UK with eleven weeks of airplay on Planet Rock and a spot play on BBC Radio 2's Rock Show with Johnnie Walker. The single also won Tracks of the Week twice on Classic Rock's Louder Sound.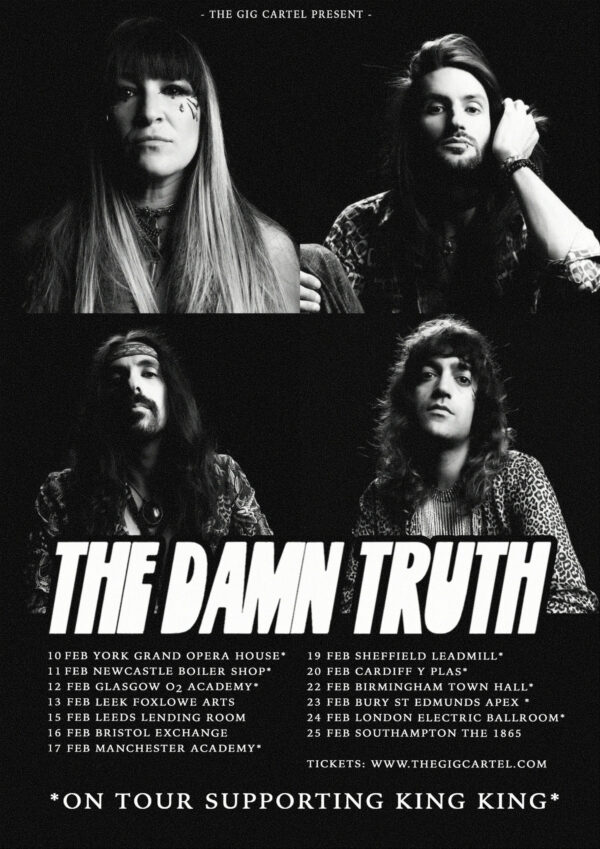 The band have also been championed by the British music press with magazine coverage in Classic Rock, Blues Matters, Guitarist, Powerplay, Guitar Techniques, Record Collector, Fireworks, Blues in Britain, Hard Rock Hell, MNPR and R'N'R Magazine.
"We're looking forward to touring the UK," says lead singer and guitarist, Lee-la Baum. "Last time we played the UK was a one-night banger in London that left us wanting for more. We cannot wait to come back and hit the road in the UK."
The Damn Truth is comprised of Lee-La Baum (lead vocals, guitar), Tom Shemer (guitar), PY Letellier (bass) and Dave Traina (drums).
"The Damn Truth are a fresh revivalism of the psyche music scene from the mid 60's," says Jeff Laufer, editor of the Californian website, Rock Bands of LA. "Critics and fans alike praise their regeneration of the hard rock sound and values."
"Bob Rock found a spirit within the band that he hadn't experienced for many years," continues Jeff. "He saw something special… an artist with burning talent that needed the right direction to break wide open…like lightning in a bottle."
Tickets available from www.thegigcartel.com
The Damn Truth will perform a livestream concert tonight from Montreal, Canada at 8pm ET (1am UK time the following morning on Thursday June 10) (2am Central European time the following day on Thursday June 10).